Innuos servers/streamers can automatically integrate your Sonos system/speakers and configure it to index the music stored on the Innuos unit. You will be able to play its music library from your Sonos app to any Sonos wireless speaker. Furthermore, whenever music is added to your Innuos server/streamer, be it via ripping a CD or by using the Import feature, the Sonos music library will be automatically updated so there is no need to manually request this on the Sonos app.
Sonos is an American developer and manufacturer of audio products best known for its multi-room audio products such as wireless speaker systems. Founded in 2002, Sonos has partnered with several companies worldwide that offer several music services streaming playback available on its devices.
Requirements
One or more Sonos system devices/speakers connected on the network;
Innuos server/streamer fully updated to the latest innuOS 2 release;
All devices connected on the same network subnet (same IP address range);
The Sonos integration works on Innuos servers/streamers (ZEN or STATEMENT series) only;
If you are using an Innuos network player (PULSE series) the
Sonos
server integration is not available. As an alternative you may use the
Sense UPnP integration
with the
Innuos Sense app
instead.
Please bear in mind that the use of network range extenders (Wi-Fi or Powerline) or Wi-Fi Mesh satellite/node routers setups are known to be prone to introduce network glitches or restrictions which may render it impossible for the devices to communicate properly on the network. If you find any issues please try removing theses devices from the network and connect all devices directly to the same network router/switch and then try again.
How to enable the Sonos server integration
To enable the Sonos server integration please open your Innuos server/streamer's innuOS dashboard and then:
1. Go to the SYSTEM 🞂 SETTINGS 🞂 INTEGRATIONS 🞂 Sonos page;

2. On the Sonos integration page set the switch to On to enable it. The system will now search for and connect silently to Sonos devices found on the network. It will then sync to the Sonos Music Library and your Sonos will start automatically indexing the available Music Library on your Innuos server/streamer;
If you aren't using any UPnP Network Streamers then we recommend to make sure you fully disable the UPnP server integration option. This will also prevent the Innuos Server from showing up on the (UPnP) sources section on the Sonos app and prevent any confusion.
3. Open your Sonos app and follow the steps below to locate your Music Library and play your music. You should find the Music Library of the Sonos now includes the Music Library from the Innuos server/streamer. Depending on the Music Library size it can take a while to be fully indexed. You may then start to play any of them easily;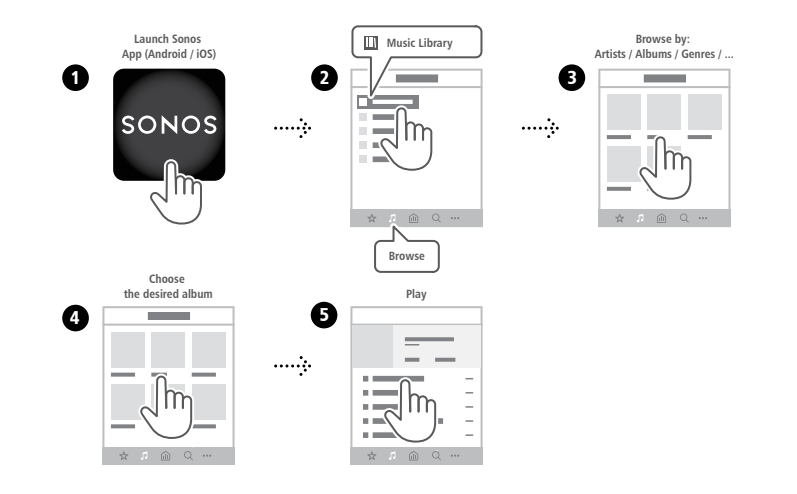 Done!