Providing a step-up from the PULSEmini, we engineered the PULSE by adding some significant improvements that increase its performance and how it sounds. For starters, PULSE raises the bar by integrating our new custom RECAP2 LPSU power supply, designed in collaboration with Dr. Sean Jacobs. The RECAP2 uses only high-grade components including:
⦿ Medical-grade filtered IEC
⦿ Audio-grade toroidal transformer with an epoxy-filled center for dampening vibration, magnetic screening with coated SYN-SHIELD copper tape between windings and wrapped in black Mylar Tape
⦿ Over 40000 µF of high-end Mundorf Capacitors
⦿ Coilcraft Inductor

BUILT TO PERFORM
In addition to its substantial linear power supply, PULSE has upgraded coaxial and optical digital outputs with the addition of a balanced AES/EBU digital output for further connectivity with audio systems.

Asymmetrical feet are installed on PULSE to support the player while also being strategically placed to help dampen vibration from the sound system during playback. Even small details like this can add up to improving your music listening experience.

PULSE also has 8GB RAM for handling even larger music library databases.

Visually, PULSE fits well in any system with its wider stance and its bead-blasted, anodized wide front panel made from the best grade aluminum in your choice of Silver or Black.

THE CONTENDER
The PULSE Network Music Player is the perfect choice for someone seeking a bit more out of their player. As the middle player of the PULSE series its sound quality, performance and value simply can't be ignored.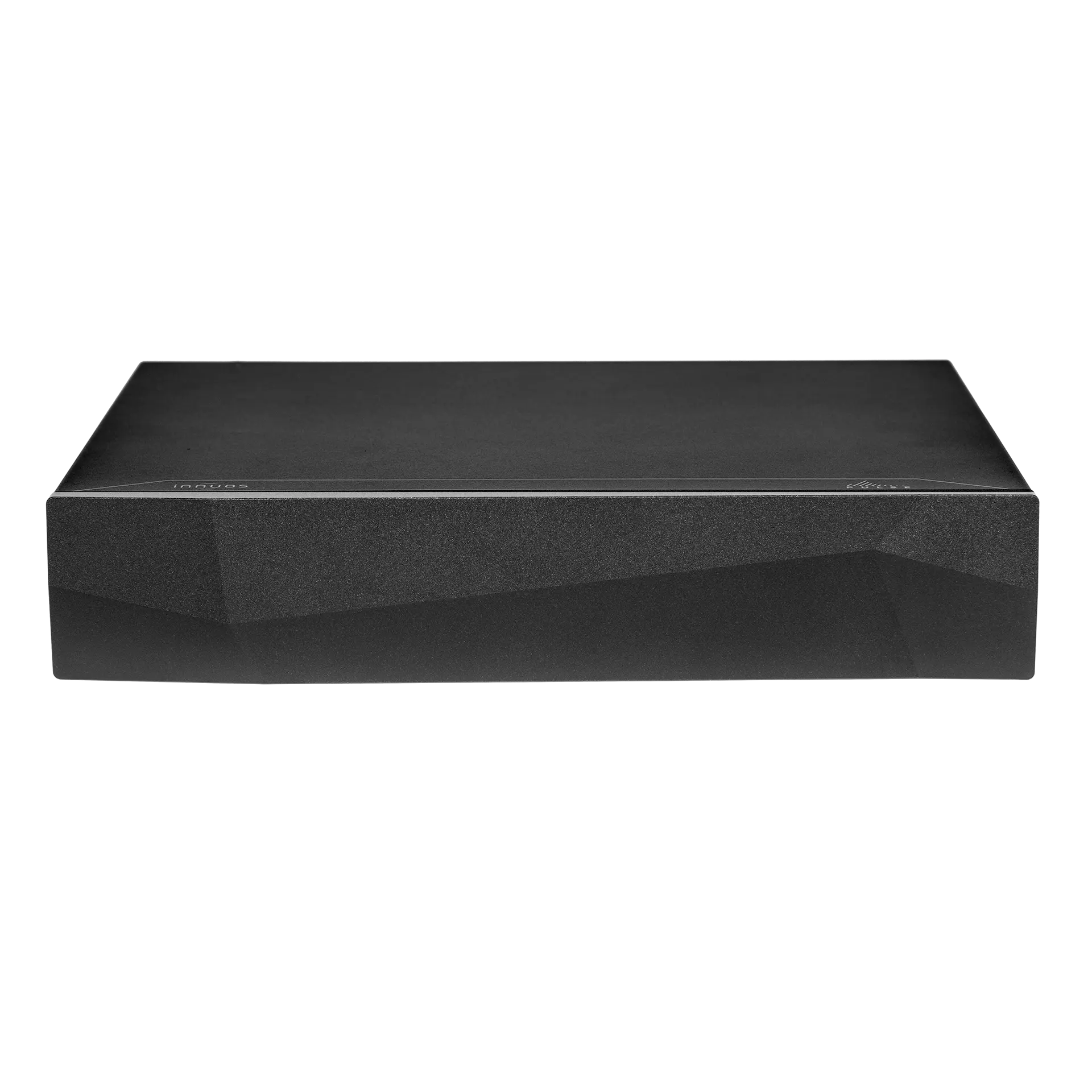 Controlled via Innuos Sense App
Managing your music should never get in the way of listening to your music - it should complement the experience. The Innuos Sense app is a powerful music management tool that works the way you do – it is made to help you manage, organize and play your music and navigate streaming services with ease. Sense is available as a free download, and tightly integrates with high-end online music services and our innuOS Operating System to deliver optimal music playback with the following features:
Seamless and automatic ripping of CDs on Innuos music servers.
Qobuz and TIDAL integration including Artist Bios, Related Artists, Top Tracks and more.
Management of Qobuz and TIDAL albums together with albums stored on a Network Attached Storage (NAS) for a unified Music Library
Internet Radio with easy preset creation
Radio Paradise, a popular music stream
Fast, Integrated searches through internet radio, streaming services and music on a NAS
Easy creation of playlists from multiple streaming services and music on a NAS
Curated and configurable Smart Mixes based on your music
Home Screen widgets allow you to customize and access your favorite features at the touch of a button
FLEXIBILITY
Each PULSE series Network Music Player has two modes – these modes give you the flexibility to configure your network music player to work the way you want it to. Your music, played your way.
In Standalone mode, you can use the Innuos Sense app to play streaming services, Internet Radio and music stored on a NAS, to a multitude of audio systems. In this mode, the PULSE becomes the center of your audio system, enabling you also to use the Sense app with other streaming devices on your network.
In Endpoint Mode, PULSE connects to a main music server, be it an Innuos Music Server, HQ Player or any server running Logitech Media Server. The PULSE will then show as a zone on the respective music server app and you can use your preferred app to browse and play music through the PULSE.
With its compact footprint, low-power efficiency, quiet operation and range of connectivity, the PULSE is a convenient and discreet music streamer for all your music from an Innuos music server, HiFi streaming services and internet radio.
PULSE was designed as the perfect step up for better music playback – its high-quality power supply components, floating SDD for the innuOS Operating System, paired with a custom motherboard and premium components offer substantially improved musical performance that far better than using a computer for streaming.
03.
Connectivity Made Easy
PULSE outputs PCM up to 32bit/768kHz as well as up to DSD512 via USB to compatible DACs. It features coaxial, optical SPDIF and AES/EBU outputs capable of up to 24bit/192kHz.
The sum of PULSE's parts make for one remarkable Network Music Player. The high-grade components used in PULSE's improved power supply reveal more depth, spaciousness and presence in your music for a memorable listening experience.
Pulse's 8GB of RAM is double that of the PULSEmini for improved search speed.
Using our exclusive innuOS operating system, PULSE is configured and optimized from the ground up for the perfect balance of performance and simplicity. Control your library from the comfort of your tablet or smartphone – no computer required.
PULSE supports MQA Core Software Decoding, which means you can playback MQA audio files and streams, delivering the sound of the original master recording. MQA Core software decoding is provided free of charge and enables streaming and playback of MQA files up to 24bit/96 kHz for non-MQA DACs and up to 24bit/384 kHz for MQA Renderer/Decoder DACs. PULSE can also passthrough MQA files to MQA Full Decoder DACs.
InnuOS Operating System 2.3 or higher is required for MQA Core Decoding.
Visit our MQA page for more information.
Specifications
Digital Output
Coaxial SPDIF (Up to 24bit/192KHz PCM)
Optical SPDIF (Up to 24bit/192KHz PCM)
AES/EBU (Up to 24bit/192KHz PCM)
USB (Up to 32bit/768KHz, Up to DSD256 via DoP, Up to DSD512 via Native DSD)
| | |
| --- | --- |
| Ethernet | 2 x rear panel RJ45 – Bridged Gigabit Ethernet |
| USB | 4x USB 3.0 |
| | |
| --- | --- |
| Audio Formats Supported for streaming and playing | WAV, AIFF, FLAC, ALAC, AAC, MP3, MQA (with supported DACs) |
Connects to Innuos Music Servers, Logitech Media Server based Servers or HQPlayer Server
| | |
| --- | --- |
| Web Interface | Modern Web Browsers from iOS, Android, Windows and Mac OS X |
| Mobile | Innuos Sense App (iOS/Android/Kindle Fire) |
| | |
| --- | --- |
| CPU | Intel Quad Core N4200 |
| Memory | 8GB DDR3 Low-Voltage RAM (4GB Dedicated for RAM Playback) |
UPnP/DLNA
Controls selected UPnP streamers as endpoints via Sense
Streaming Services
Internet Radio, Qobuz, Radio Paradise, Tidal
USB DAC Support
USB DACs complying to USB Audio Class 2
USB DACs supporting DSD over DoP protocol
Selected USB DACs supporting Native DSD
Network
Internet connection to access Internet Radio, Streaming Services and software updates
Network router with at least one available ethernet port
Premium subscription required for some streaming services such as Spotify, Qobuz and Tidal
Mains Supply
230V AC / 115V AC – Internal Linear Power Supply
Power Consumption (Idle)
7W
Power Consumption (Peak)

Standalone mode

13.7W
Dimensions
300mm x 250mm x 74mm (W x D x H)
Weight
4,9 Kg
In the box
Innuos PULSE Network Player
Mains Cable
2m Ethernet Cable
Quick Start Guide