 Partner Spotlight
When we're not enjoying our favorite music or designing new and better ways to do that, we like finding ways to add value to the Innuos experience through partnerships with others.
Innuos music server/streamers and network music players include MQA (Master Quality Authenticated) technology, which enables you to play back MQA audio files and streams, delivering the sound of the original master recording. MQA Core software decoding is provided free of charge.
MQA is an award-winning British technology that delivers the sound of the original master recording. The master MQA file is fully authenticated and is small enough to stream or download.
All Innuos products running innuOS Operating System 2.3 or higher can take advantage of MQA Core software decoding. Your operating system can be updated using the Innuos Sense app.
Visit mqa.co.uk for more information.
INNUOS PRODUCTS WITH MQA SOFTWARE DECODING
PULSEmini
PULSE
PULSAR (Coming Soon)
ZENmini / ZENmini S
ZEN
ZENith
One of the best things about MQA is that music is delivered at quality higher than CDs, which are 16-bit / 44kHz resolution. You can use MQA music files and streams in a wide variety of configurations. Below are some scenarios that might be common to your system and preferences.
Scenario 1
MQA Core Decoder
First unfold
Enabled in Sense app
Any supported DAC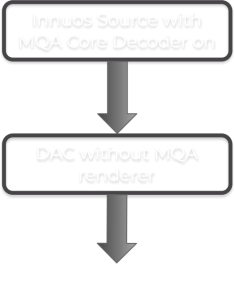 First unfold enabled in Sense app
Second or third unfolds via external DAC
Delivers higher quality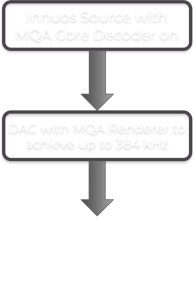 Scenario 3
MQA Full Decoder
Disable MQA in the Sense app
Full unfold rendered via external DAC
(Highest unfold level is DAC-dependent)