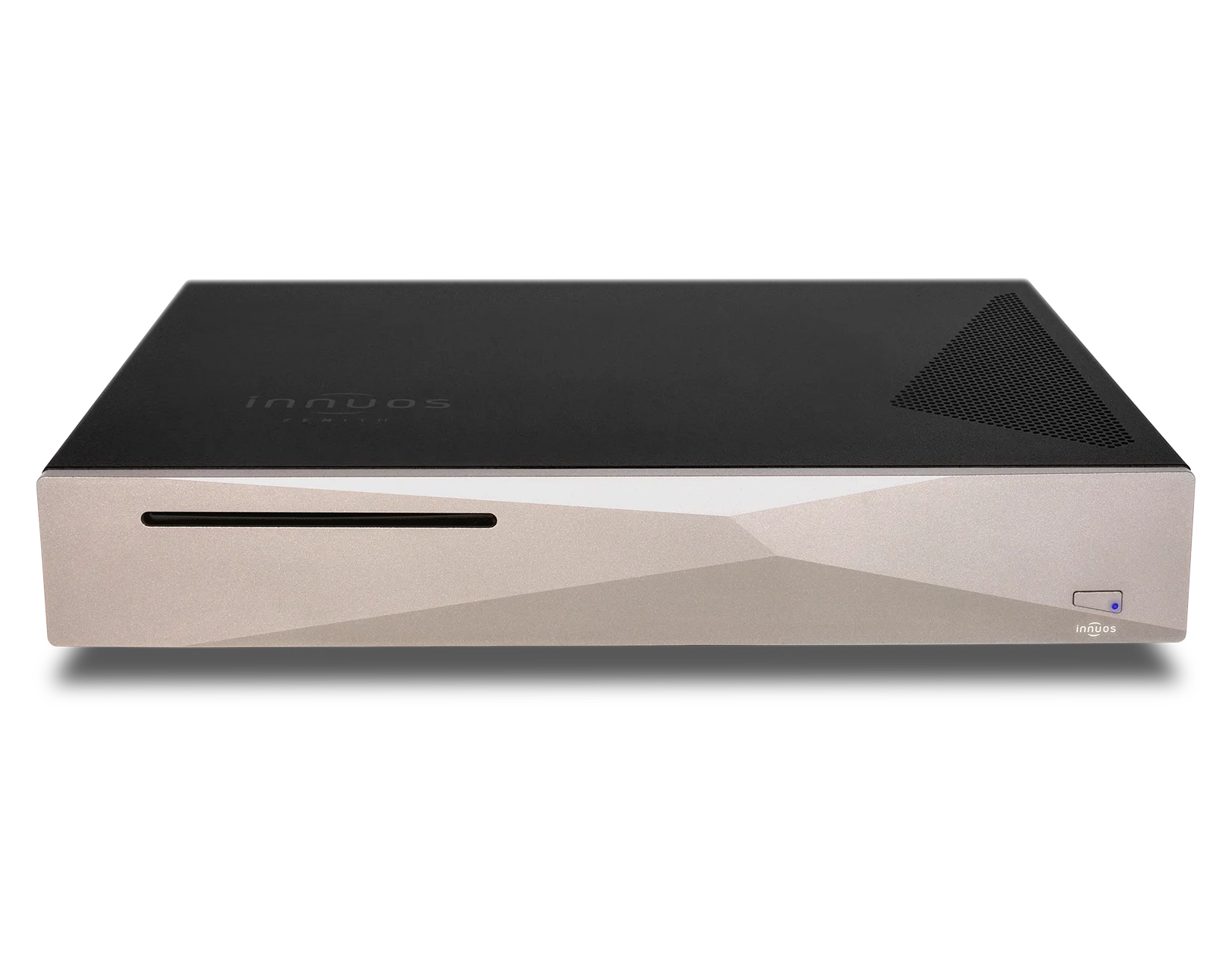 Pushing our popular ZENith even further, the advanced MK3 includes a Triple-Linear PSU with Mundorf CAPS and custom-treated SSD. Ideal for audiophiles who want a smoother, more relaxed sound with a wider soundstage.
⦿ New Custom Motherboard with reduced EMI
⦿ Dual Ethernet Ports for LAN and Streamer with dedicated isolation transformers
⦿ Innovative Triple-Linear Power Supply with ultra-low noise regulators and premium Mundorf Capacitors
⦿ 8GB RAM (4GB Dedicated for RAM Playback)
⦿ Asymmetrical isolation feet
⦿ Ultra-low Noise USB Audio Output
⦿ SSD Storage with newly improved vibration and EMI treatment
⦿ Quad-core Intel CPU
⦿ Can be used as Roon Core (Optional)
⦿ Medical-Grade Mains Filter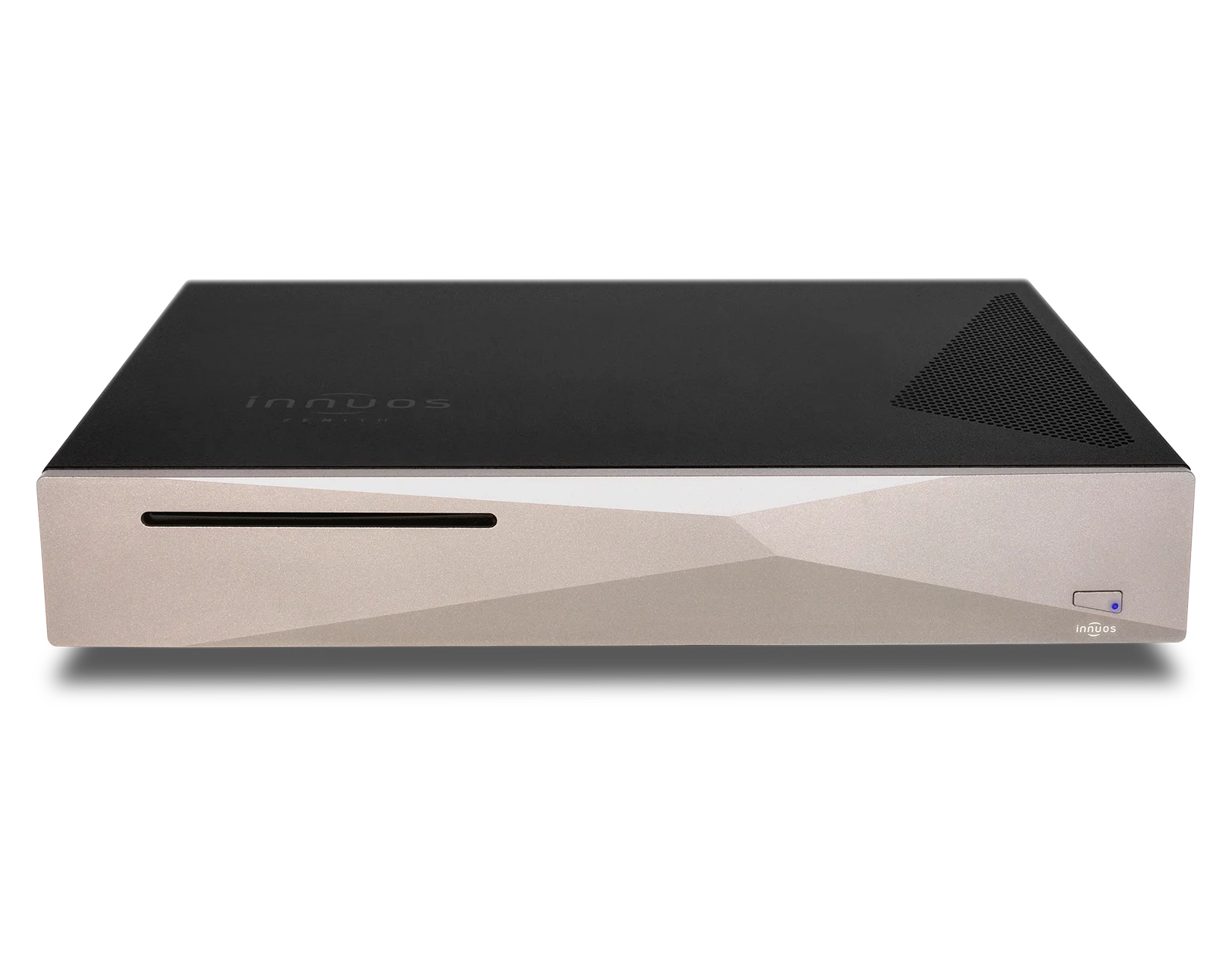 | | |
| --- | --- |
| 1TB SSD | € 4 399 |
| 2TB SSD | € 4 699 |
| 4TB SSD | € 5 299 |
| 8TB SSD | € 6 499 |
| | |
| --- | --- |
| 1TB SSD | £ 4 149 |
| 2TB SSD | £ 4 399 |
| 4TB SSD | £ 4 949 |
| 8TB SSD | £ 6 049 |
| | |
| --- | --- |
| 1TB SSD | $ 5 399 |
| 2TB SSD | $ 5 799 |
| 4TB SSD | $ 6 599 |
| 8TB SSD | $ 8 199 |
| | |
| --- | --- |
| 1TB SSD | $ 7 199 |
| 2TB SSD | $ 7 699 |
| 4TB SSD | $ 8 699 |
| 8TB SSD | $ 10 699 |
Controlled via the Innuos Sense App
Managing your music should never get in the way of listening to your music - it should complement the experience. The Innuos Sense app is a powerful music management tool that works the way you do – it is made to help you rip, manage, organize and play your music and navigate streaming services with ease. Sense is available as a free download, and tightly integrates with high-end online music services and our innuOS Operating System to deliver optimal music playback with the following features:
Seamless and automatic ripping of CDs on Innuos music servers.
Qobuz and TIDAL integration including Artist Bios, Related Artists, Top Tracks and more.
Management of Qobuz and TIDAL albums together with albums stored on a Network Attached Storage (NAS) for a unified Music Library
Internet Radio with easy preset creation
Radio Paradise, a popular music stream
Fast, Integrated searches through internet radio, streaming services and music on a NAS
Easy creation of playlists from multiple streaming services and music on a NAS
Curated and configurable Smart Mixes based on your music
Home Screen widgets allow you to customize and access your favorite features at the touch of a button
01.
Triple-Linear Power Supply
Inspired from the high-end power supply engineering of the SE, ZENith Mk3 benefits from new premium Mundorf capacitors with ultra-low noise regulators and a medical-grade mains filter to provide even greater audio clarity.
Our own custom-made Innuos motherboard is completely reworked for optimised audio performance. Sources of EMI have been removed, resulting in a "blacker" music background and enhanced realism.
03.
Ultra-low Noise Streamer Output
Dual-ethernet ports with isolation transformers provide an ultra-low noise network connection for your streamer, removing noise from the path and improving sound quality on all network audio.
04.
Anti-vibration and EMI Treatment
New asymmetrical isolation feet derived from our ZENith SE plus added treatment to the chassis help to combat harmful vibration that affect a clean audio signal, with even greater treatment now applied to the SSD.
With 4GB dedicated memory, ZENith loads music directly to memory for playback so that it doesn't need to engage the SSD during playback, improving sound quality.
ZENith supports MQA Core Software Decoding, which means you can playback MQA audio files and streams, delivering the sound of the original master recording. MQA Core software decoding is provided free of charge and enables streaming and playback of MQA files up to 24bit/96 kHz for non-MQA DACs and up to 24bit/384 kHz for MQA Renderer/Decoder DACs. ZENith can also passthrough MQA files to MQA Full Decoder DACs.
InnuOS Operating System 2.3 or higher is required for MQA Core Decoding.
Visit our MQA page for more information.
Specifications
Digital Output
USB 2.0 supporting USB Audio Class 2, DoP, Native DSD and MQA
Dedicated Ethernet Streamer Port
| | |
| --- | --- |
| Ethernet | 2 x rear panel RJ45 – Bridged Gigabit Ethernet |
| USB | 1x USB 2.0 (DAC), 1x USB 3.0 (Backup) |
| | |
| --- | --- |
| CD Formats | Red Book |
| Disc Compatibility | CD, CD-R, CD-RW |
| Audio format for stored CDs | FLAC (zero compression), WAV |
| Audio Formats Supported for streaming and playing | WAV, AIFF, FLAC, ALAC, AAC, MP3, MQA (with supported DACs) |
| | |
| --- | --- |
| Sample Rates | 44.1kHz, 48kHz, 88.2kHz, 96kHz, 176.4KHz. 192kHz, 352.8KHz, 384KHz , DSD64, DSD128, Native DSD up to DSD512 on selected DACs |
| Bit Depths | 16bit, 24bit, 32bit |
| | |
| --- | --- |
| Web Interface | Web Browsers from iOS, Android (4.0 and up) or up-to-date Windows and OS X browsers |
| Mobile |  Innuos Sense App for iPhone/iPad, Android and Kindle Fire |
| | |
| --- | --- |
| CD/DVD drive | TEAC Slot-loading drive |
| Storage drive | 1TB, 2TB, 4TB or 8TB SSD with Vibration and EMI treatment |
| CPU | Intel Quad Core N4200 |
| Memory | 8GB DDR3 Low-Voltage RAM (4GB Dedicated for RAM Playback) |
UPnP/DLNA
Integrated UPnP Server
Streaming Services
Qobuz, Tidal, Radio Paradise, Internet Radio
Roon Compatibility
Roon Core and Roon Endpoint
Average CD Storage Time
5 minutes
CD Metadata
FreeDB, MusicBrainz, Discogs, GD3
Compatible Music Systems
Sonos Multi-room Wireless Music System
DLNA/UPnP compatible devices
USB DACs complying to USB Audio Class 2
USB DACs supporting DSD over DoP protocol
Selected USB DACs supporting Native DSD
Network
Internet connection to access album metadata when storing CDs, Internet Radio, Streaming Services and software updates
Network router with at least one available ethernet port
Premium subscription required for some streaming services such as Spotify, Qobuz and TIDAL
Recommended App
Innuos Sense
| | |
| --- | --- |
| Mains Supply | 230V AC / 115V AC – Internal Triple-Linear Power Supply |
| Power Consumption | 12W when idle, 15W peak |
Dimensions
420mm x 340mm x 83mm (W x D x H)
Weight
9 kg
In the box
Innuos ZENith Mk3 Music Server
Mains Cable
2m Ethernet Cable
Quick Start Guide
``The Innuos ZENith Mk3 is the ZEN Mk3 on steroids. It is also a one box server/streamer solution of high quality.``
Hans Beekhuyzen has followed up on his comprehensive ZEN Mk3 video review by taking a look at the next model up in the range - the ZENith Mk3.
``It keeps surprising me to what degree sound quality can be improved by taking more care when sending a digital signal over USB to a DAC - and the ZENith Mk3 does a damn good job doing just that. ``
5-Star Review from Head-Fi.org
The ZENith Mk3 received a revelatory review from audiophile headphone-enthusiast site Head-Fi.org, who praise the ZENith for its substantial convenience benefits and the significant sound quality gains to be had by using a digital transport solution like the Innuos Mk3.
``I would highly recommend auditioning the Innuos line of music servers and for those looking to incorporate a music server into their system, be sure to add Innuos to your shortlist. ``
Hi-Fi Choice give Recommend Award to ZENith Mk3
UK publication Hi-Fi Choice have awarded their coveted Recommended badge to the ZENith Mk3, praising the unit for having a potent and flexible spec with one of the best interfaces going, whilst it also delivers outstanding performance that will inspire confidence even for those starting out in network audio, and so should be near the top of any shortlist.