Ripping CDs with innuOS 2.0
In this post we will look into the CD Ripping interface on innuOS 2.0. Despite the mantra of the "CD is dead", we have found there is still a majority of users who do use it, some frequently, some more occasionally. As such, we decided to have another look at this feature as there were areas with the CD Ripping UI that we wanted to improve from version 1.x in order to make what can be a long and tedious process into a more streamlined one. Features such as Assisted or Automatic Mode, Quick or Quiet Mode and ripping to WAV or FLAC are all kept from version 1.x but now made even easier to use and prettier. You can now also access the CD Rip History and better check what's going on with your CD Ripping while you are doing something else. Let's dig in!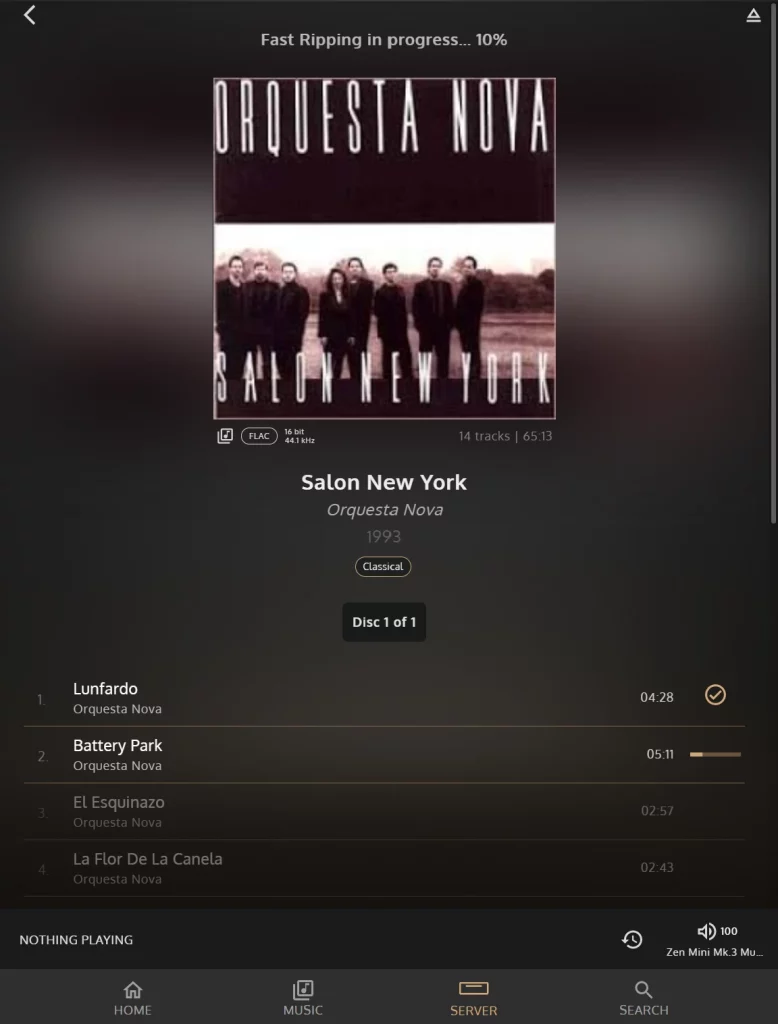 CD Rip History
One of the areas both ourselves and our users sorely missed was information about which CDs had been ripped already. This sometimes led to ripping duplicates unnecessarily. Another typical issue was not finding on the music library CD that had been ripped before, either because it had issues like a damaged track or the metadata was somehow different than expected.
To resolve these issues, the disc ripper area now shows the CD Rip History, listing all the CDs that have been ripped as well as the date they have been ripped. If you click on a CD, it will take you immediately to the album on the music library which you can play or edit right away.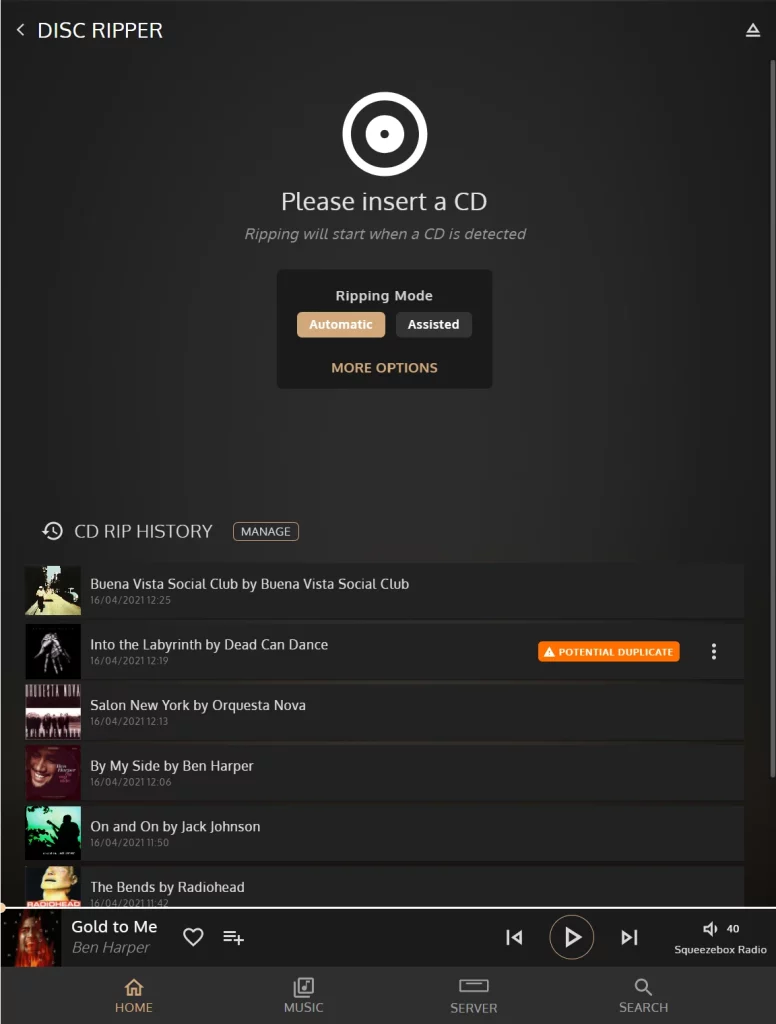 Quarantine features have now been integrated in the Rip History so there's no specific entry for Quarantine anymore. Duplicate, Damaged or CD's with Unknown metadata will have a tag directly in the rip history. With any of these you have the option to either delete them or save them into the library anyway, potentially to be edited later on. Clicking on Manage you can see the complete recorded CD Rip History and have the option to clear it if you wish.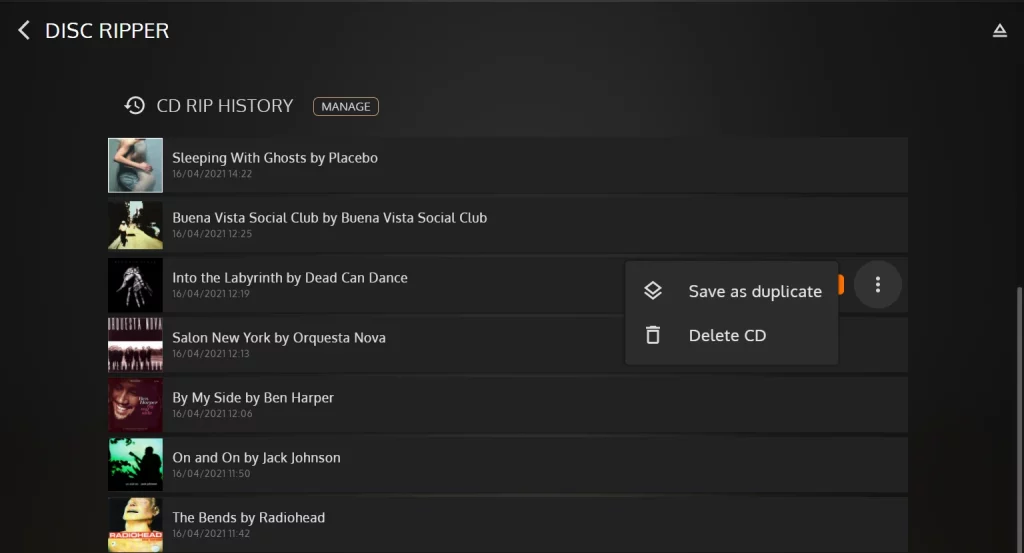 CD Rip Options
The CD Rip options have now been moved from the Settings area on 1.x to the Disc Ripper area on 2.0. This now enables easily to change between modes on a CD by CD basis if the user so desires. The main visible option is between Automatic and Assisted Mode. This allows to easily switch to Assisted mode if ripping Classical Music CDs for example whilst using the more convenient Automatic for other genres where metadata accuracy is higher. The last option is memorized so you just need to change if you need to.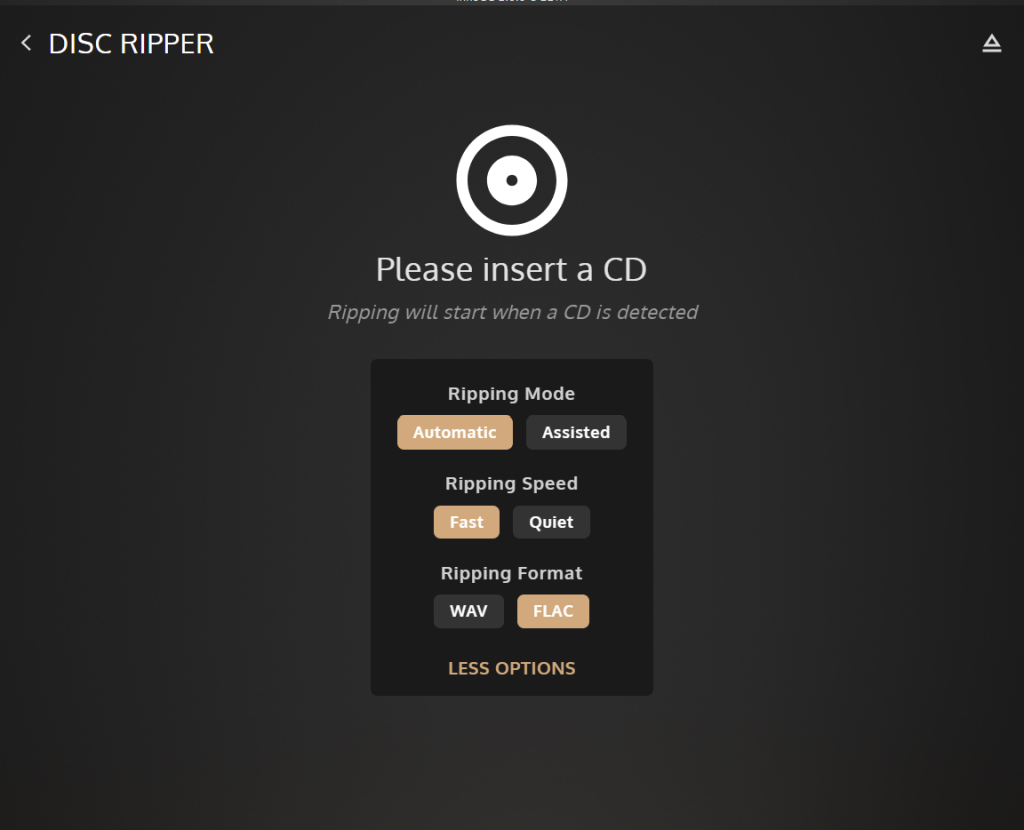 When using Assisted Mode, the system now also goes directly to Edit mode so there is no need to press a button to edit. If the metadata is ok then just save and rip.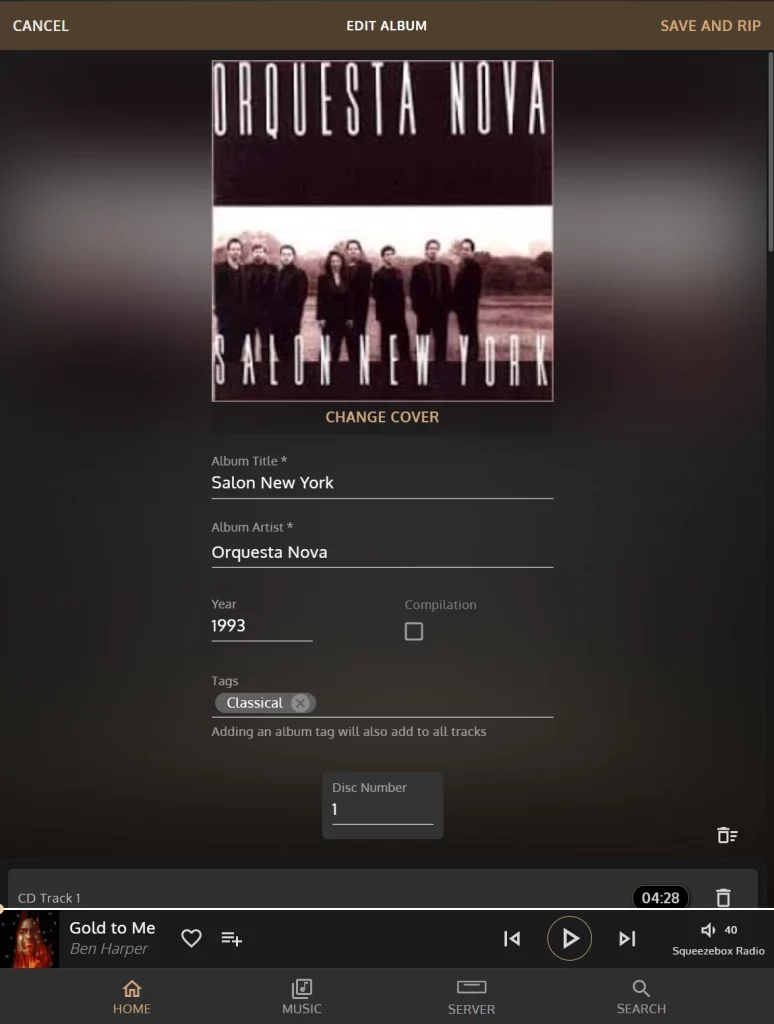 Background Information during Ripping
innuOS 2.0 also brings two new concepts to provide more information what is going on in the system while you're not looking: Server Events (SE) and Background Activity Monitor (BAM). We will cover this in more detail on another article so for now let's see what they can do in the context of CD Ripping.
Most users will not actually want to sit and stare at the screen while a CD is ripping so with innuOS 2.0 we have further more ways you can have a peak of what's going on with your ripping whilst you are doing something else. Assuming you are browsing music or even tidying up your music library during ripping, you can check the ripping status at all times on the BAM, sitting on bottom right side of the screen. Click on it and further information is shown. Click again and it will take you to the CD Ripper screen.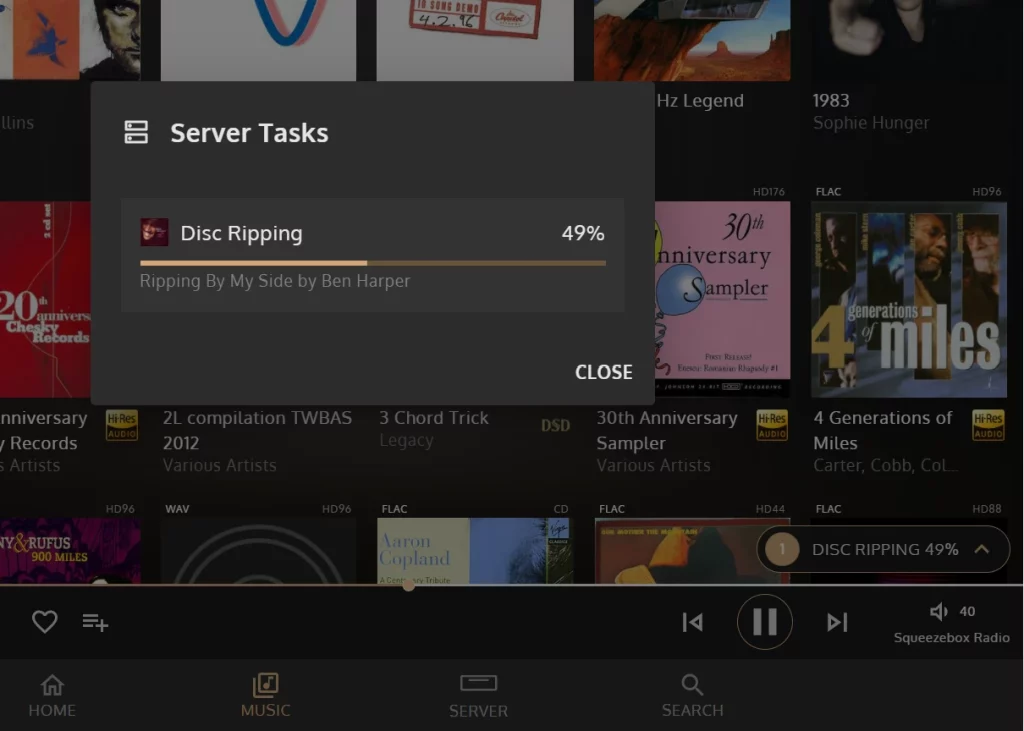 Let's assume now that you are ripping CDs in Automatic Mode without looking at the app. If there are any exceptions, you will be able to be notified as soon as you enter the app. On the top right you will see a bell icon with a label in case there are new notifications. Duplicates, Damaged or Unknown Data CDs will generate a notification and you can click on the notification to go to the CD Rip History where you can take appropriate action.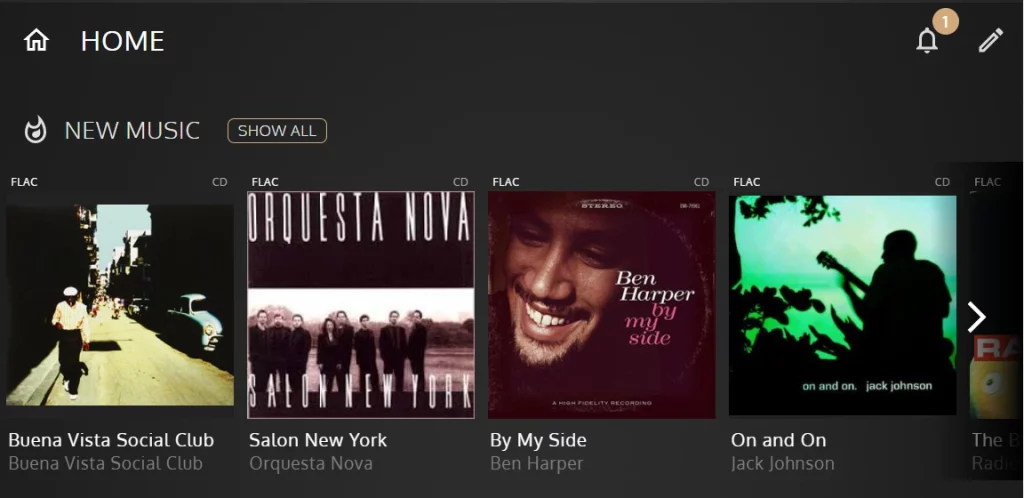 Your Questions Answered
Regarding exploring internet radio in innuOS 2.0, will it be possible to explore based also on stations bitrate: for instance searching for jazz and then only for stations with 320kbps?
Unfortunately no. The question is that in a lot of cases we will only know the bitrate when we actually connect to the station. However, it's an interesting point and we will contact TuneIn to try and understand whether it's feasible to have something like a maximum sample rate for the radio that could be used to categorize the stations.
Is there a possibility to watch album and track on TV?
Not as a kind of streaming option for the TV but if you have a TV that allows to mirror a screen from a phone/tablet or if you are using a Chromecast/AppleTV on your system then you can always mirror your screen there.
Will there be further language translations, e.g. for German?
Yes, the framework is designed to be able to be translated so we do plan to provide direct translations. However a potential workaround, because you can also run our app on any web browser, is to use automatic translation. It's not perfect (it does translate album/track titles which may not be desirable) but it does provide a quick way to translate and it's available on a huge number of languages.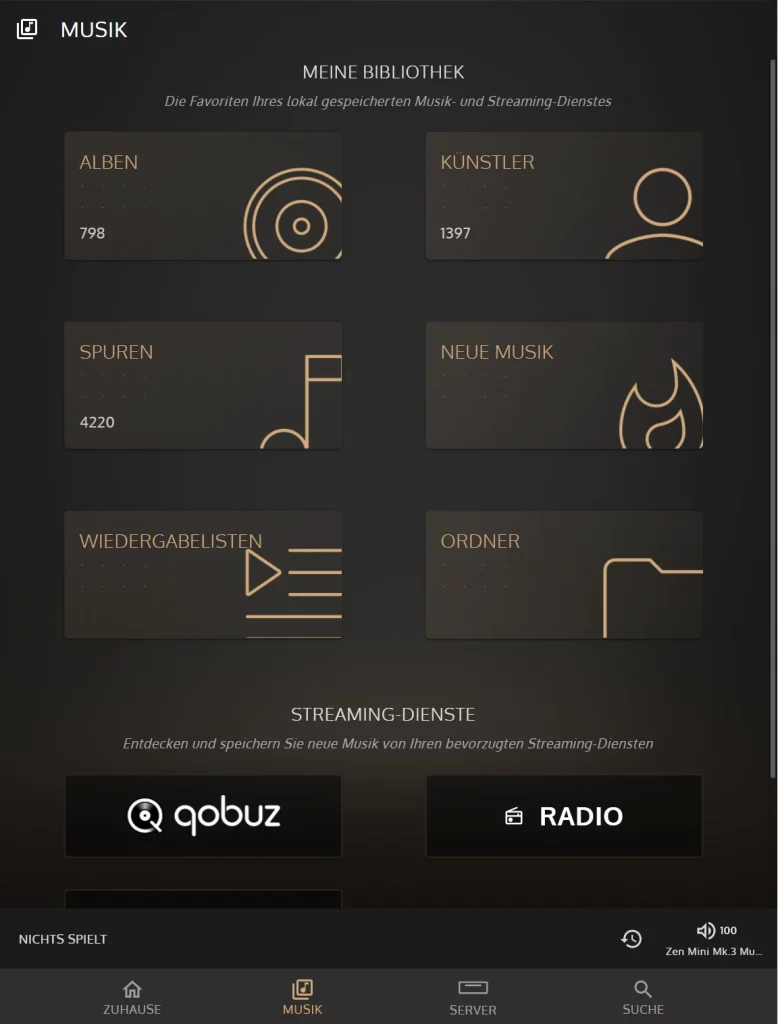 Will there be a plug-in like "non stop music" that can be enabled or disabled so at the end of the playlist the music continues picking tracks from the library (ie. internal or qobuz)?
We don't have one yet and we do have some very interesting ideas to get something that is tailored to a specific user, without having to share information to be able to make suggestions. The framework will be collecting already some information when we launch 2.0 although that information is stored strictly locally on the server database, it's not uploaded in any way neither to Innuos nor any partners. Our view is that we can provide more personalised results by "mining" data locally only but over a longer period of time so the system can get to know you specifically rather than model from the crowd. This is a long and quite complex subject but this should give you a few pointers where we will be heading.
That's all for this week. Thank you for being here and see you next week!
Nuno Vitorino