Navigating the Music Library: Artists, Tracks, New Music and Folders
On this post we will continue to show in more detail how to explore your music library with innuOS 2.0 using additional views in the Music section.
Artist List View
The Artist View can now be filtered in a few different ways to suit your preferences. The first filter is choosing between Album Artists (the default view), All Artists (which includes composers and track artists) and Composers. We preferred this option over having separate options in the Music home and this will enable further filters to be implemented in order to provide even more power to browsing your Artists.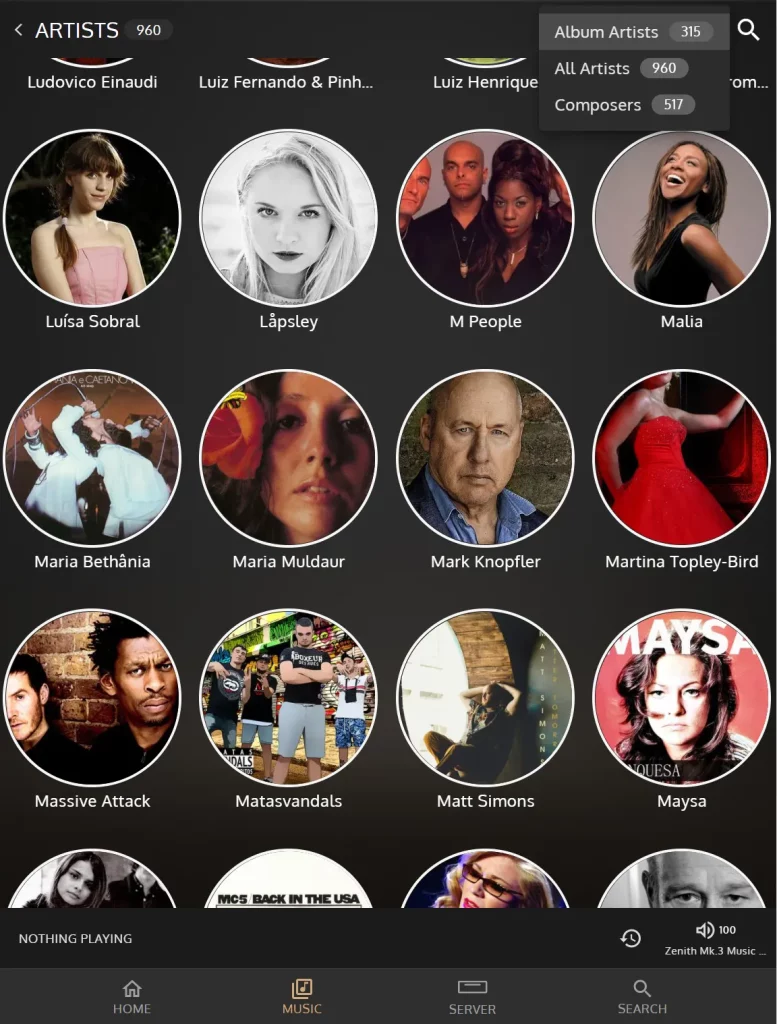 There is also a dedicated search option that will automatically show results as you type for a faster experience. You still have the option to search the more traditional A-Z index.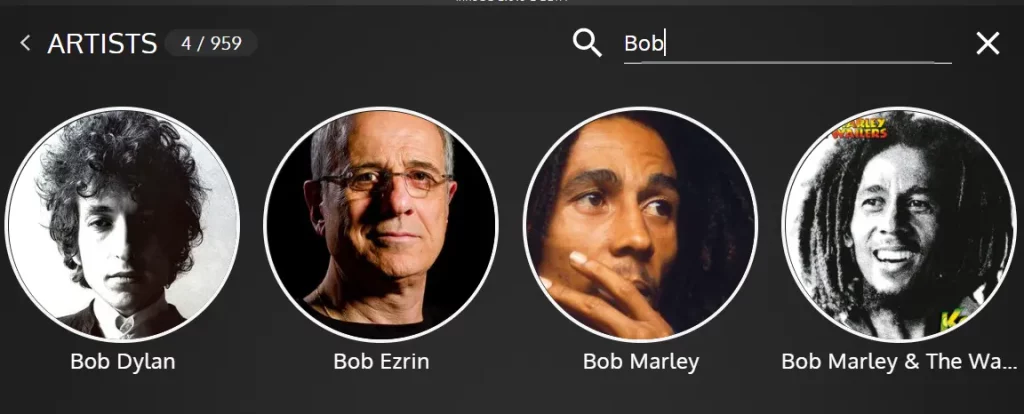 Artist Detail View
The Artist view now provides a powerful way to explore your music library. You now get an Artist image, short Bio and a more detailed Bio if available. Additionally, you have the usual list of local albums from the Artist but you now also get a list of albums the Artist appears on, which could be as a Track Artist or as a Composer. This information is provided even if no streaming services are connected. innuOS now fetches this additional data online for your local library.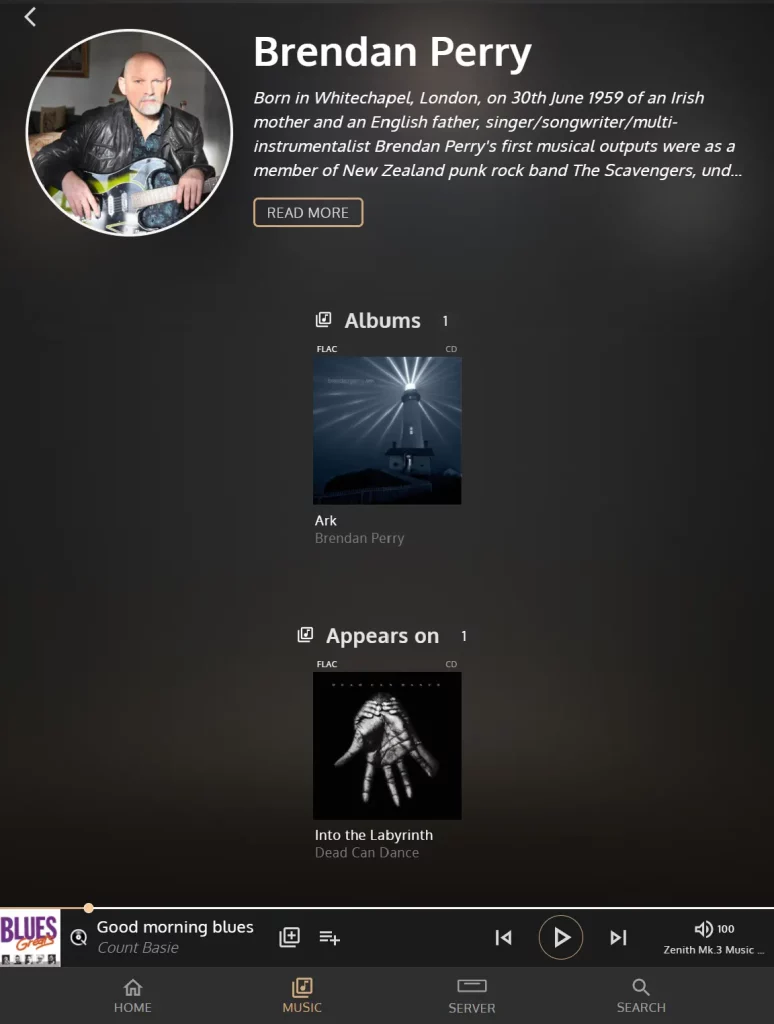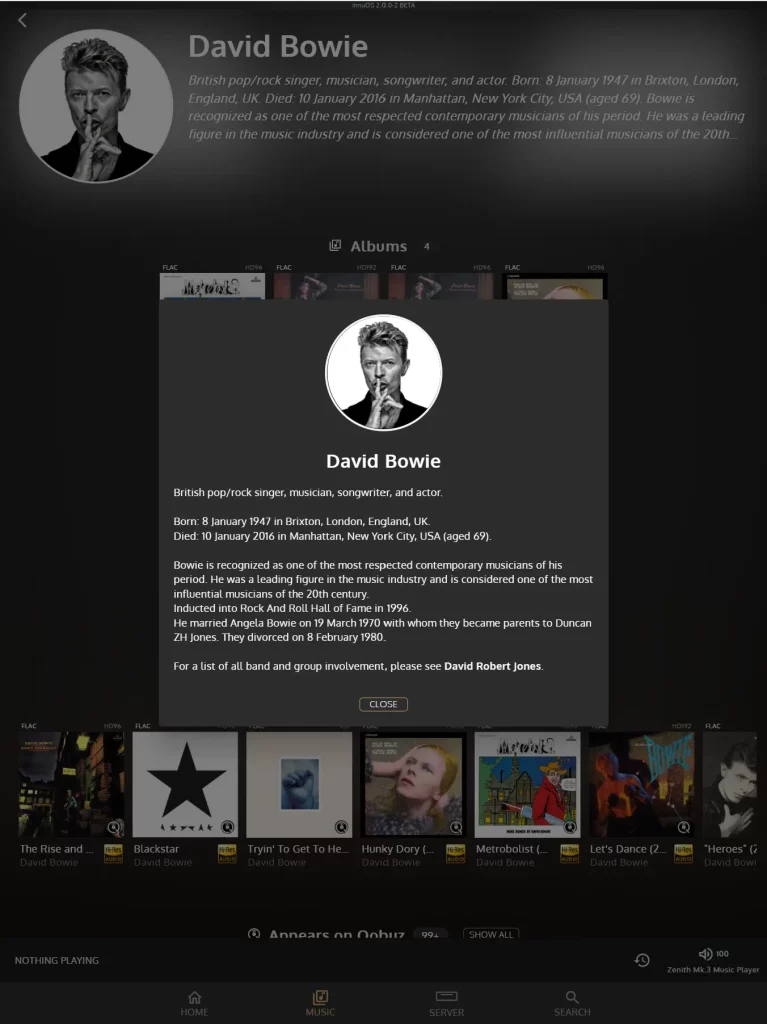 If you do have a compatible streaming service like Qobuz (this level of integration with TIDAL will come on a later update), then you get additional information to explore music beyond what you have stored locally.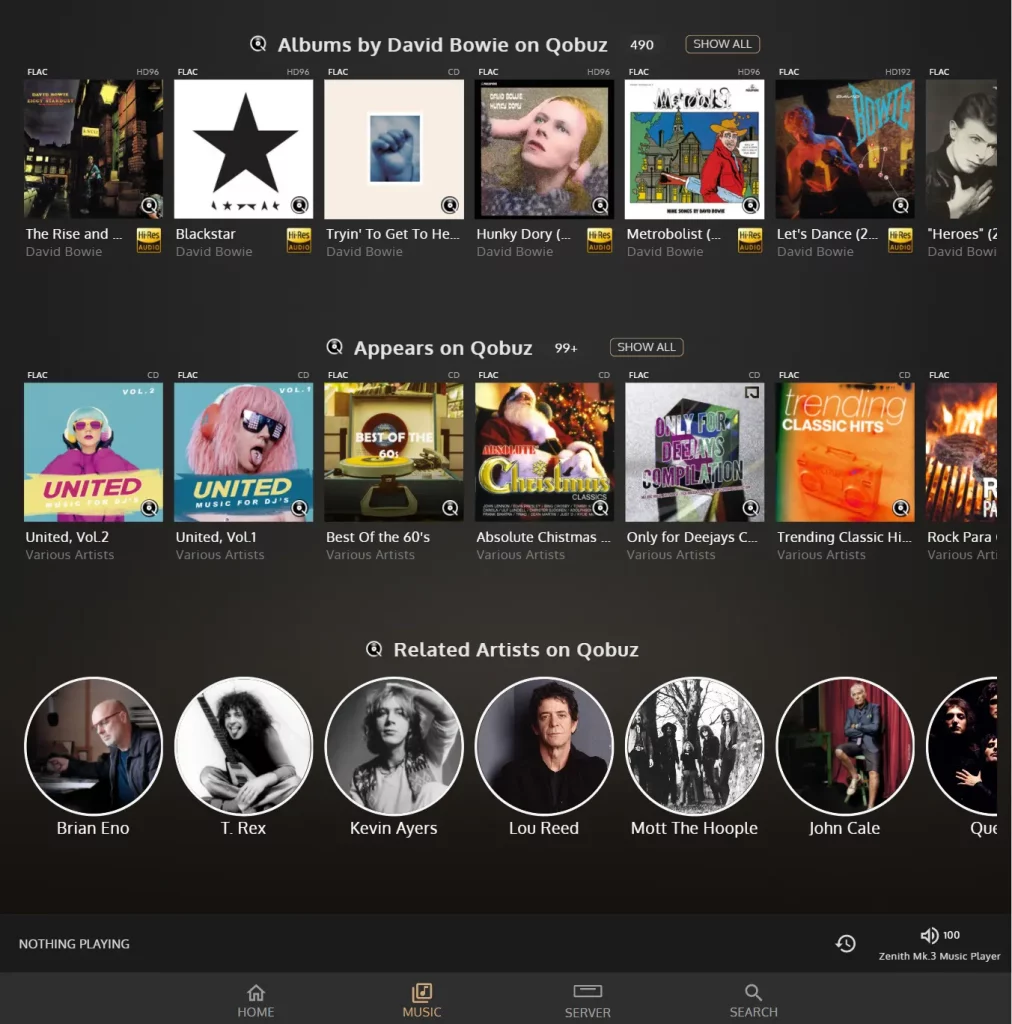 Tracks View
New to innuOS 2.0 is also the Tracks View, which now allows you to specifically browse, search and play your tracks. For each track you can then either play directly, add to your queue, add to playlist or navigate to the respective Artist and Album on your Music Library.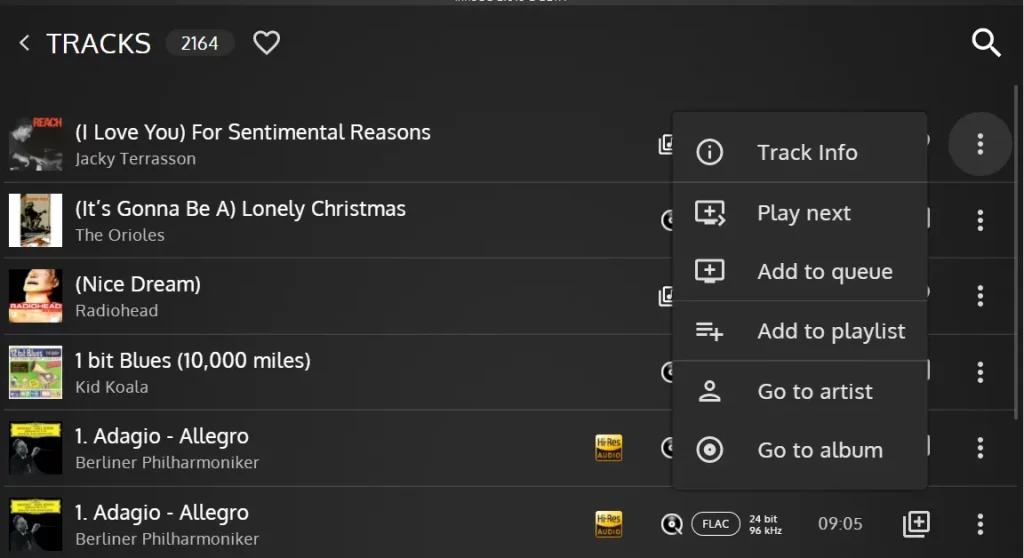 The Tracks View will list all tracks from any albums on your Music Library, whether they are local or coming from compatible streaming services. This will give you a good idea of all the tracks currently on your library, regardless of where they come from. You can filter this view by Favorite Tracks for quick access.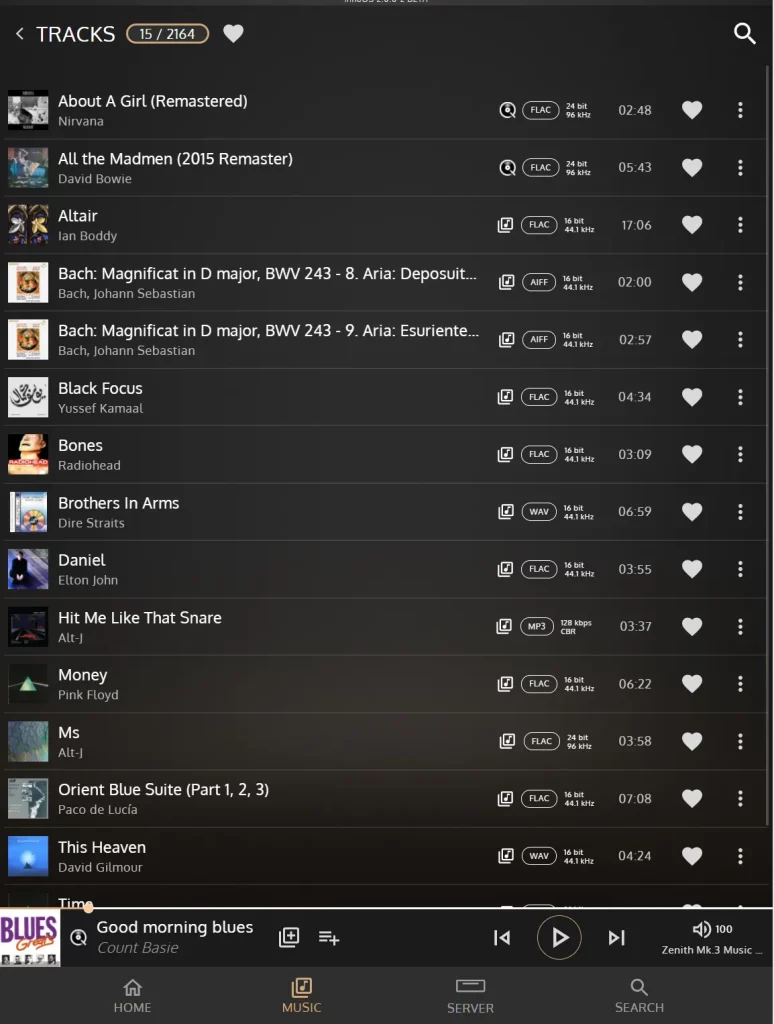 You also use the same intelligent search as on the Albums view. In the example below, you can see searching for "rock" will result in both tracks containing "rock" on the title as well as tracks from the Rock tag.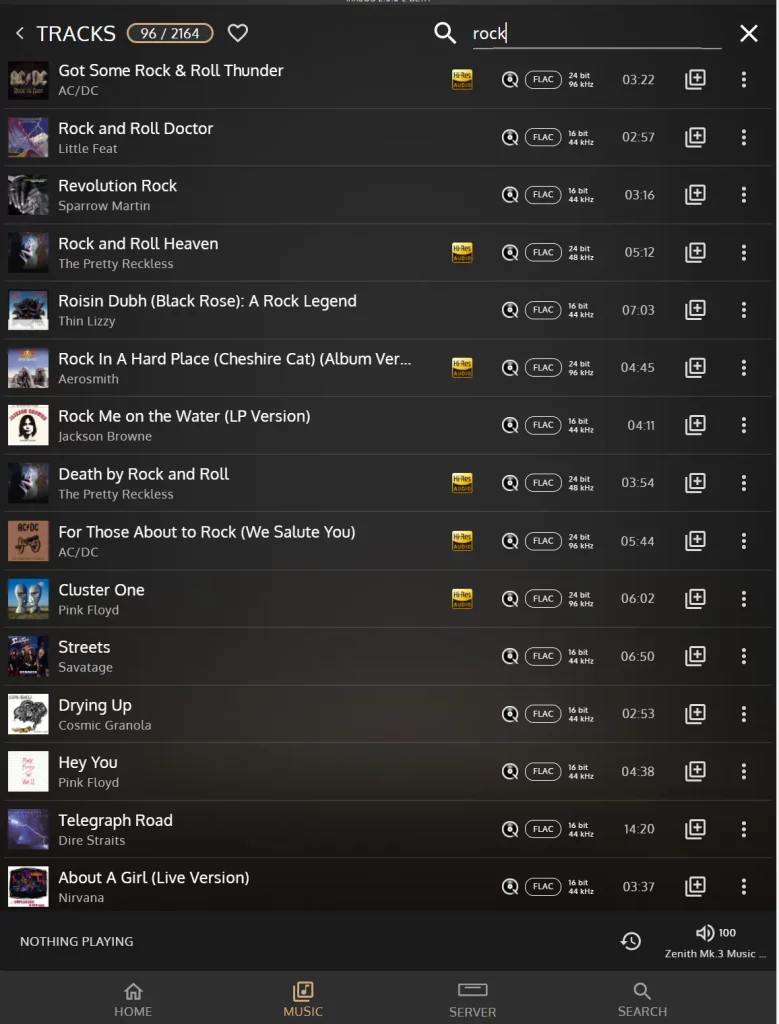 This is an area this will be further expanded with additional filtering and powerful playback/playlist tools as this view has immense potential to explore!
New Music View
New Music will show you the latest albums ordered by the most recent. This will include any music you have ripped, imported or synced with a streaming service so that you can have a quick access to the most recent music. This feature is also available as a widget on the Home page.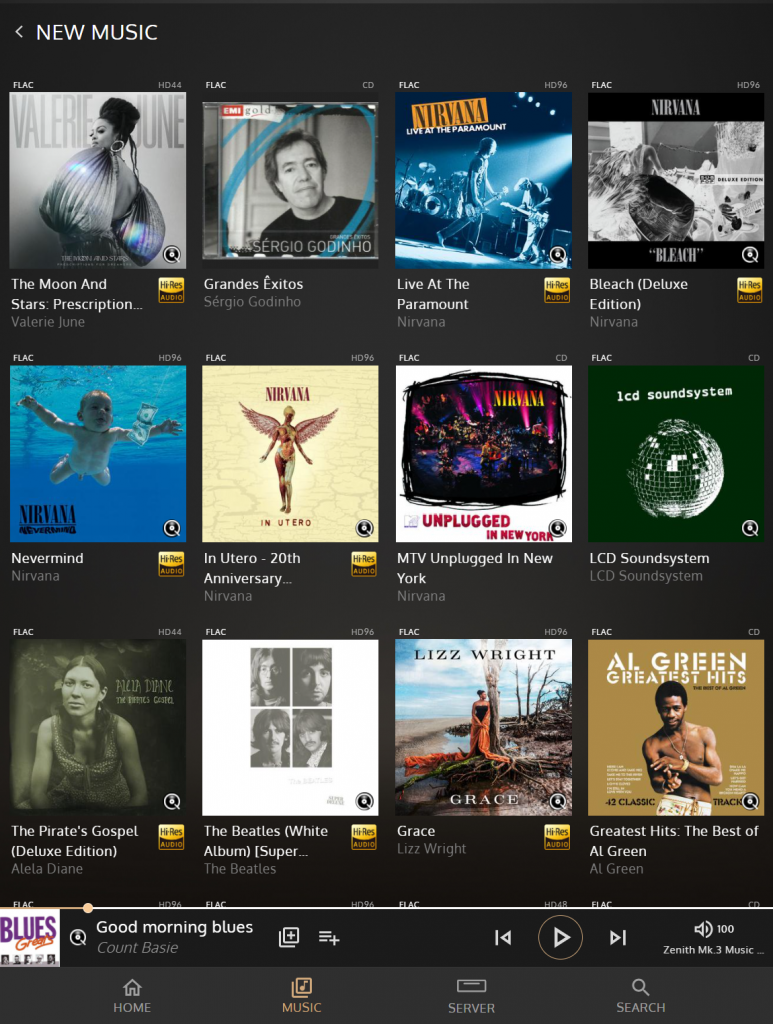 The widget and the view both update in real-time as you import music so you can see the albums being added and you can start exploring right away while more music is being imported in the background.
Folders View
For those of you who have spent countless hours organising your music library files in a folder structure view that fits your purposes, you'll be happy to see we have included our folder navigation here as well. From here you can explore your Music Library and play entire folders of music. When click "Play" on a folder, innuOS will add those files to the queue (with a limit of 500) and from there you can eventually save it as a playlist and edit it for your own needs and purposes (ex: create a playlist from a "Blues" folder containing Blues music files)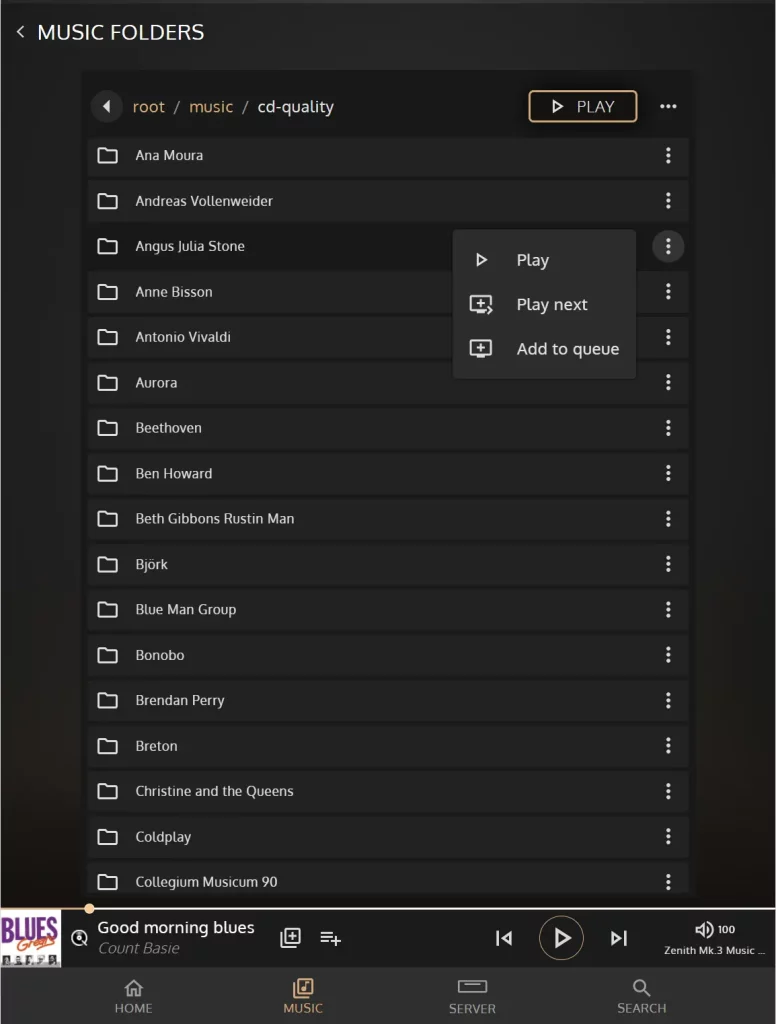 Playlists View
Playlists have had a completely new implementation compared to what you could do with iPeng/Squeezer on iOS. It's now very easy to create your own playlists, add tracks to them from almost anywhere, export playlists and even move tracks between the different playlists.
In fact, this has such a rich functionality we will dedicate the next Inn-Sights blog post just for that. Available next week on Friday as usual!
Your Questions Answered
Is all metadata for ripped CD-R's expected to transfer over to 2.0? Hoping I won't have a bunch of albums that are unrecognized after the transition.
Yes, the metadata is stored in the files themselves and we will feed our database from them and then further complementing it with richer metadata like artist bios, related artists, etc. Once you upgrade your system to innuOS 2.0, it will automatically start rescanning your library and filling this up.
The standard metadata will still be saved on the files themselves so that if you export these files to other systems, all your metadata is preserved. However, additional metadata like Artist Bios and images will remain on the local database only.
Disappointed to hear the App will not act as streamer until a later update. The album integration in the App is miles better than using Mconnect which I will have to continue with for UPnP. When do you expect innuOS 2 to offer this feature?
It's one of our top priorities but at the moment we can't offer any kind of a date. Eventually we will start with support for specific devices as unfortunately UPnP is not that universal… We will soon provide a tool our users can provide feedback to which features they would like to have first. Stay tuned.
Any plans to include multi user profiles. So personal playlist and history are kept separate?
A very interesting idea. The challenge with this is keeping it simple so that it's easy to switch contexts. This will require a good deal of thought as otherwise it can become a barrier. But a very nice feature to consider!
Do you have any plans to integrate chromecast?
Device integration will be gradual on innuOS 2. Our initial focus will be UPnP streamers but we have a long roadmap of features, some of them quite innovative if I may say so myself. We will be revealing more details as we go, the focus now is stability so that all of you can start enjoying innuOS 2.0 as soon as possible.
That's all for this week. Stay safe out there!
Best,
Nuno Vitorino