The innuOS system uses the well known Logitech Media Server (or LMS for short) internally to handle some server/streaming related services. For some of those you may be required to access the LMS Settings page to enable/disable or adjust some of those services settings and/or plugins.
Logitech Media Server (LMS) is a streaming audio server and a free Open Source software, actively developed and released under the terms of the GNU General Public License. It is designed for streaming music over a network, allowing users to play their music collections on a network connection to both hardware and software players. It also supports the use of plugins from Logitech and third-party sources allowing additional functionality to be added.
How to access the internal LMS server settings
Please bear in mind that any change to the default Innuos LMS server settings or plugins may degrade the performance, break or render your server inoperable. Please refrain to change any other settings or plugins other than those documented on
Innuos Support KB
knowledge base articles or advised by us. Any other settings or plugin changes are not supported at all and you should be able to manage and revert them by yourself. Thank you.
1. On any computer or device connected on the same network as your server, use your web browser and open your server's LMS settings page by using the following URL: http://<hostname>.local:9000/Default/settings/index.html. Depending on your server model name choose the appropriate hostname or alternatively replace "<hostname>.local" by the server's current IP address. If you have several servers of the same model connected on the same network then please use the IP address to clearly differentiate them. Examples:
IP Address: http://192.168.0.123:9000/Default/settings/index.html
(please use your server's current IP address, you may find it on your server's innuOS dashboard > SERVER page)
You should see following default page: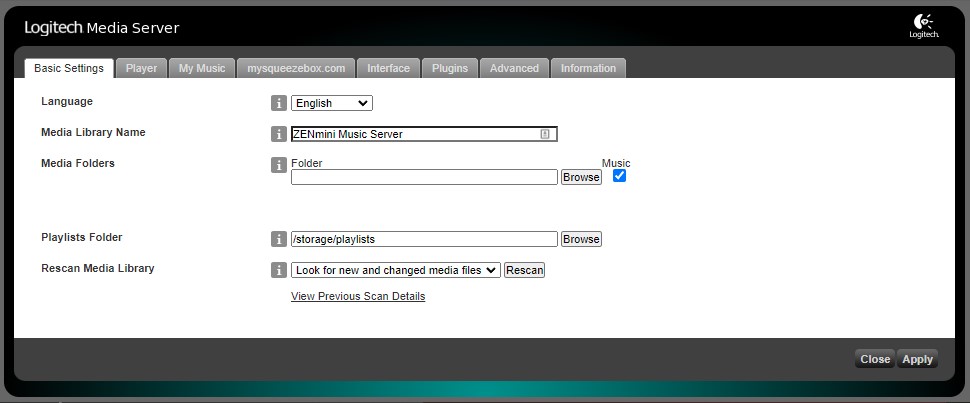 2. If you need to add or remove any plugin or change any of the currently installed plugins settings you may do it on the Plugins tab: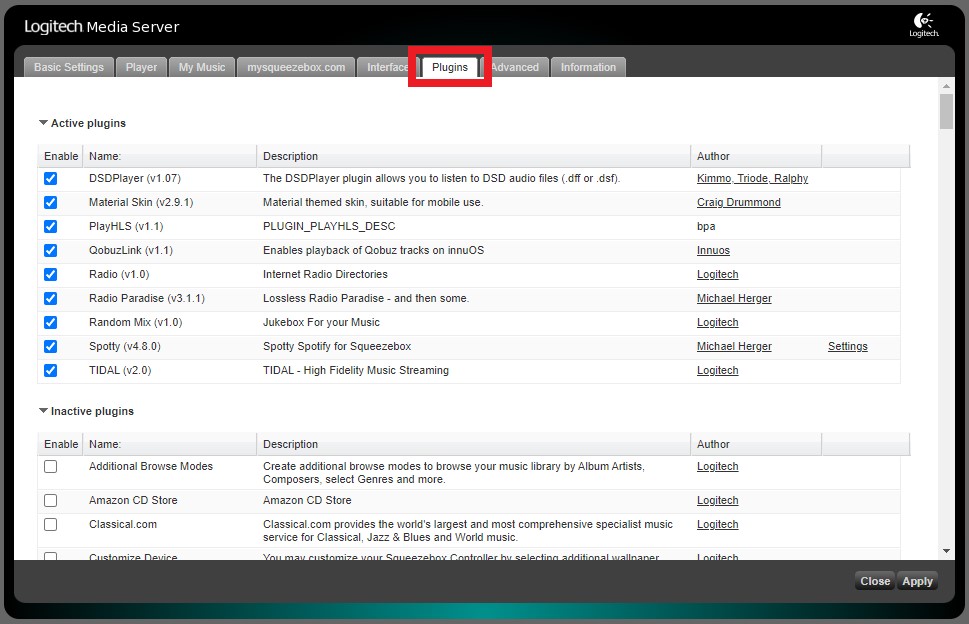 3. Please refer to any other complementary Innuos Support KB knowledge base articles on how to add, manage or change settings on some of the supported plugins and regarding their respective services. Again, please refrain from adding or changing any other LMS settings or plugins, they aren't supported and you may break your server. Thank you.
Done!