What's New with innuOS 2.5.0
Continuing on from our 2.4.x updates that improved the UI and added library refinement, the new 2.5.0 update expands on some of our existing core features whilst also adding some new abilities that have been greatly requested.
You can find the full Changelog over on our Feedback Zone here, where we also invite you to look through our current roadmap and feature requests where you can vote on topics that interest you – we'd love to get your input!

Update 2.5.0 contains a variety of improvements and fixes, but there are a few topics we can take a look at in greater depth on this blog update. These will be:
Playlist Imports and Exports
New UI for Backup
Qobuz Booklets
Exporting Playlists
Our playlists already have an 'Export to USB' function that was largely designed to copy over stored music files for playback in car stereos and similar portable situations. However, quite often users were looking to easily move some of these playlists from one Innuos device to another one elsewhere, such as a friends system. We have therefore enhanced the Playlist Export process by creating 'links' so that Qobuz and Tidal tracks within that playlist will also be carried with the playlist in to another Innuos system.
The process is the same as it was before; simply choose your Innuos playlist that contains a mixture of local files and streaming service tracks, and continue with the USB Export process.

In addition, the process will now make the relevant m3u file more visible so that the folder of tracks exported should work more openly with other systems that can read the m3u file.
Importing Playlists
Let's now take a look at the inverse of this process. We exported a playlist in the process outlined above, so let's plug that USB drive in to another Innuos server.
In the Playlists menu, you will now see a new 'Import Playlist' option under the further options found in the top-right corner: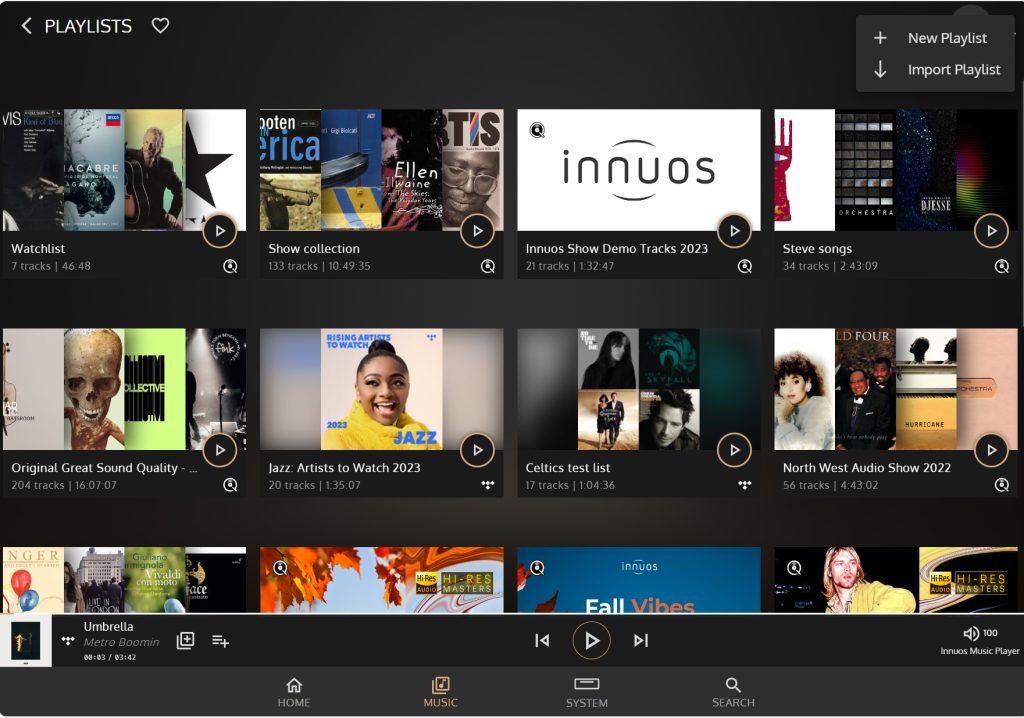 The system will now scan and present any detected USB drives;
If we navigate to the folder where we exported the playlist, we will find it there ready to be import:
Recognising it as an innuOS playlist, you can choose to keep the name and description as originally defined, or change these as you prefer.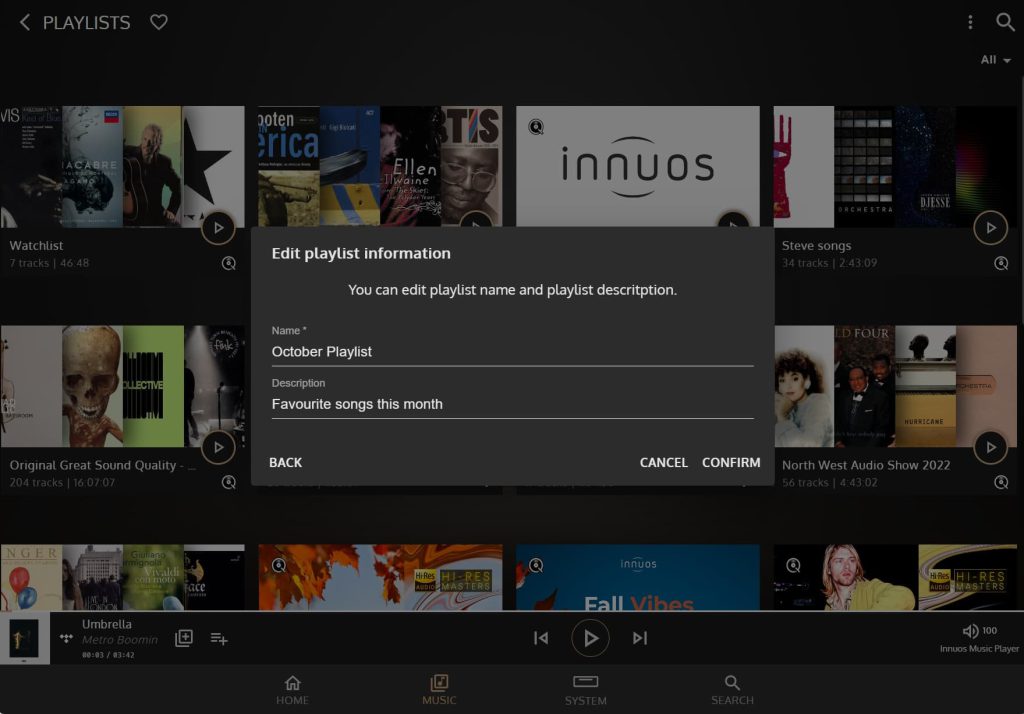 Once finalised, select Confirm and the playlist will begin importing by the usual process.
This will now appear in your list of Playlists kept in the original order and, so long as the relevant streaming services are active within the system, the listings of songs that were pulled from streaming services will also be listed and available to play.
Let's see that in action in the video below with a playlist comprising of some Tidal, Qobuz, and newly supported 32bit WAV files!

Playlists that exclusively consist of streaming services (which may be likely on PULSE devices) will still be able to perform these playlist exports, and can be imported in to any other Innuos device. Furthermore, files stored on an external NAS will be treated as a local file and would be included in an export.
New Backup UI
Our Backup tab has now received a new layout that will give a more informative readout of changes to your library, showing increases (or decreases!) of your library size since you made your last backup. The statistical comparison of files between your server and your backup drive is also now more transparent, with a better gauge of remaining storage space of both locations.
Qobuz Booklets
For albums that have them available, we have now added the option to view booklets that come with some Qobuz albums – simply select the Booklets icon and you can scroll through the provided images:
What's coming next?
Development has already begun on our next update which we hope will bring some major features, including wider language support, Deezer integration, and the ability to play files directly from connected USB drives.
It's certainly a busy time of year and many of us at Innuos will be travelling around to numerous Audioshows and events, so do come and say hello if you see us there!
Wishing you all a terrific Autumn.

Stephen