What's New with innuOS 2.4.5
On our last Inn-Sights blog post, we introduced innuOS 2.4 as an improvement to UI and library refinement, and the new 2.4.5 update continues with this phase of development.
Along with some optimisations and fixes, the primary highlight of 2.4.5 is the new 'Tags' category to the list of Music Library browsing options.
Here's a quick summary of the new Tags features available on this update:
Tags category added to Music tab

Search and sort tags alphabetically or by number of tags on each album

Show Albums, Album Artists, All Artists and Composers by tag
Select two or more tags and merge them into one, updating all relevant files
New Tags view
To some, the Tags view will seem functionally like a 'Genre' browsing option, but since Tags are entirely user-definable there is more scope for your own categorisation and criteria, such as applying moods, Conductors, or any other keywords you would like to use for the classification of your library.
Firstly, you will see there is now a Tags card added to the Music tab within Sense app, allowing you to navigate and browse by individual tag.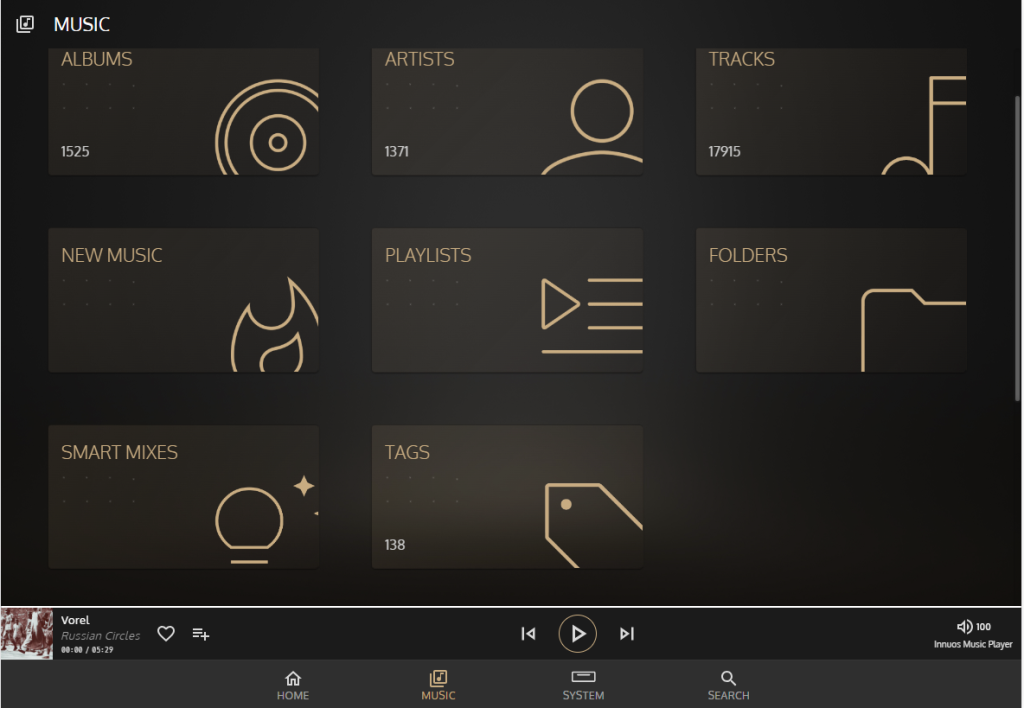 This will bring you to a full overview of all tags within your library, sorted either alphabetically or by number of albums associated with tag, with shortcuts on each tag to automatically begin a shuffled SmartMix of all music associated with that tag within your library.
Within each tag are filters to view by Albums, Album Artists, Artists, or Composers associated with this tag. Again, you will have an option to begin playing a random mix consisting of this music, along with a statistical readout of the number of albums, Artists and Tracks attached to this tag.
Merge Tags
An important new management tool to the main Tags page is the ability to use the multi-select icon to choose two (or more) tags and merge them together, allowing you to choose which tag you want to become the dominant one for all selected albums.
This is very useful in common scenarios where many albums are split by simple grammatic differences, such as 'Pop/Rock', 'Pop&Rock', 'Pop and Rock' and so on. This can save significant amounts of time otherwise editing these albums one by one.
The Album View now has the possibility to select multiple albums for a number of possible actions. Click the multi-select icon on the top right corner to enter selection mode. If you select two or more albums, you now have the following options for playback available:
Once your tags are selected, select the Merge Tags through the More icon in the top-right corner and you will be given the option of which tag you want to prioritise and overwrite onto the other tags.
You'll be prompted with a confirmation message before applying. Once confirmed, the system will quickly apply these changes.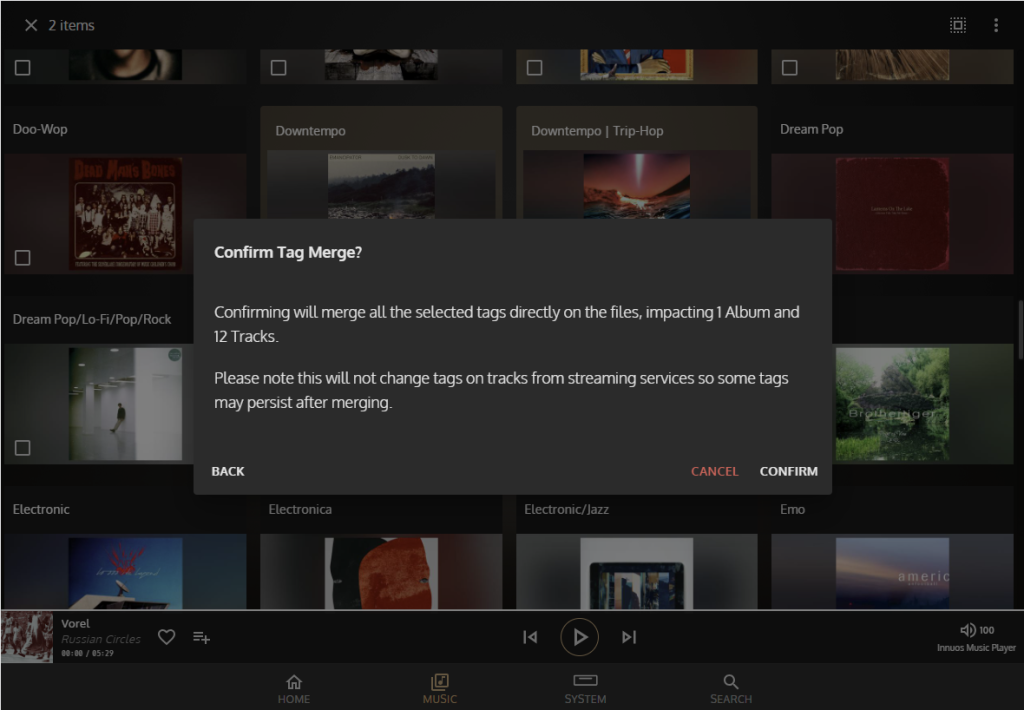 That sums up the new Tags section, so here's a short video that demonstrates browsing through these various menus to see these functions in action.
UI Improvements
Elsewhere in innuOS 2.4.5, we have introduced some UI improvements to the Artist, Album, and Playlist allowing a better view of tracks and overall information, along with a re-worked play button giving more intuitive access to Play Next, Shuffle, and Add to Queue options.
Performance Improvements
Some other optimisations have also been included to provide faster responsiveness when adding streaming service tracks to your playlists or now playing queue, whilst SmartMixes generated from files located on external NAS drives should now begin much more rapidly.
Several bug fixes and known issues are also addressed in 2.4.5 which are fully listed in the Changelog over on our Feedback Zone where you can also share your thoughts (and votes!) on topics for potential development.
What's coming next?
Work has already begun on version 2.5 to include further refinement of existing features and expanding on some of their functionality. This includes an improvement of the Backup dashboard, improvements to Qobuz integration and the transfer of playlists between Innuos systems.
Deezer integration was intended to come in 2.4.5 and whilst this feature is close to completion, we have chosen to postpone the rollout until innuOS v2.5 whilst details are still being finalised.
Lastly. For a long time, we've talked about having other members of the Innuos team become involved in these blog posts, so I'm pleased to introduce myself on my first Inn-Sights blog and to give Nuno a well-deserved break!
I look forward to telling you everything new for innuOS Update 2.5 and wish you all a terrific summer.

Stephen