Navigating the Music Library
Part I: The Albums View
On this post we will show in more detail how to explore your music library with innuOS 2.0 using the Albums View. This view has been quite expanded in scope compared to innuOS v1 as it's no longer used exclusively for editing local music but now enable you to play and further explore your music as well. The Album list view is a powerful way to explore your music library as it's so much more than just a "list of albums". Here are some of the features introduced with innuOS 2.0.
Additional Album Information
On the album list, you can immediately see some additional information:
The format (FLAC, WAV, ALAC, MP3, etc)
The quality (Compressed, CD, High-res with rate, DSD with rate)
The source (local, NAS or streaming services)
An addition Hi-Res Audio or DSD icon that easily highlights the high resolution albums you have on your library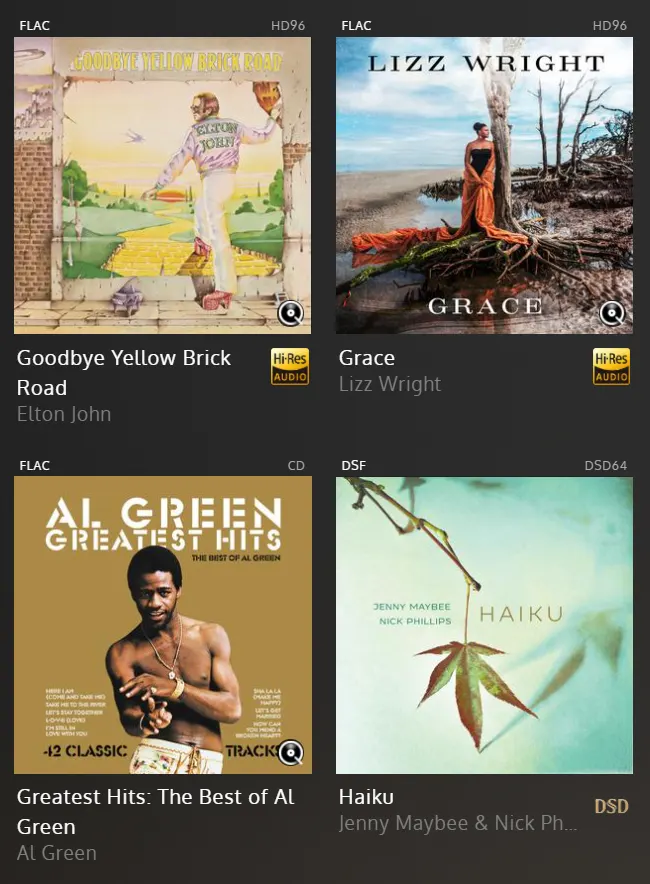 Integration with Streaming Services
The Album list now integrates albums imported from the streaming services library or favorites so that you will now see all your albums in one place. These will be added automatically once you configure the streaming service. If you have tracks listed on the streaming service Favorites, this will also originate an album here on the Music Library. Once the album is on the Music Library you can add it to your own Favorites if you like. This means you can have a number of albums synced with the streaming service and then you can additionally use Favorites to filter the view.
But streaming service integration doesn't end here. Once you have compatible streaming services configured, you will also have additional information on your albums, such as more albums from the same artist or suggested albums so you can further explore your musical tastes.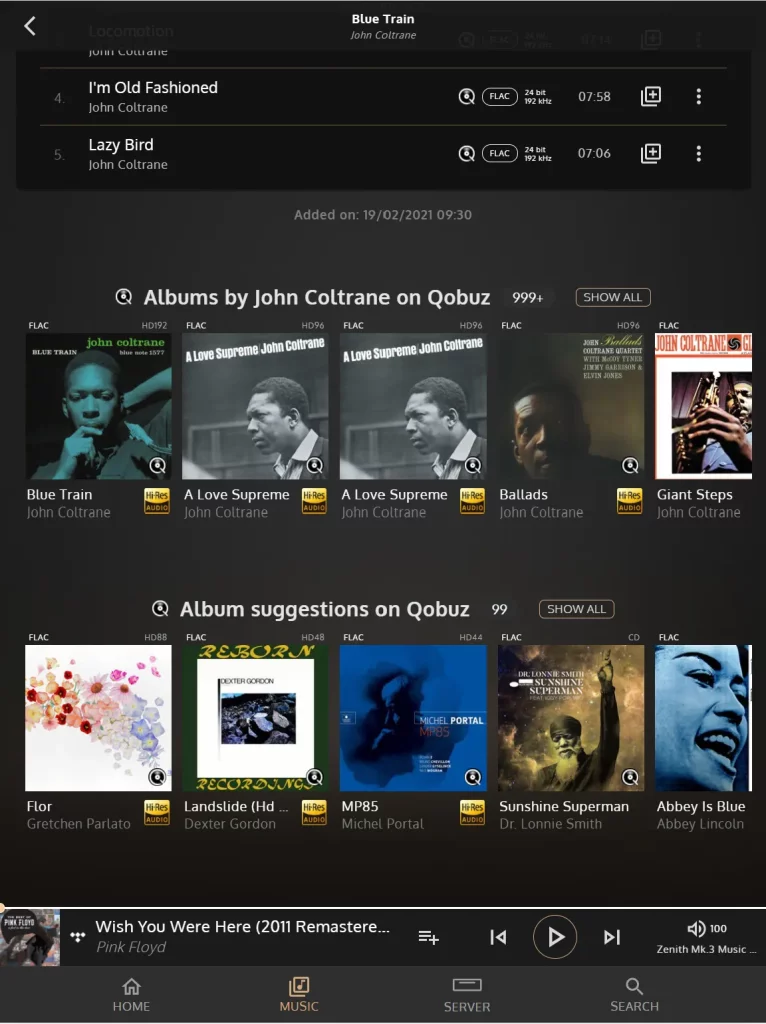 Filtering the Music Library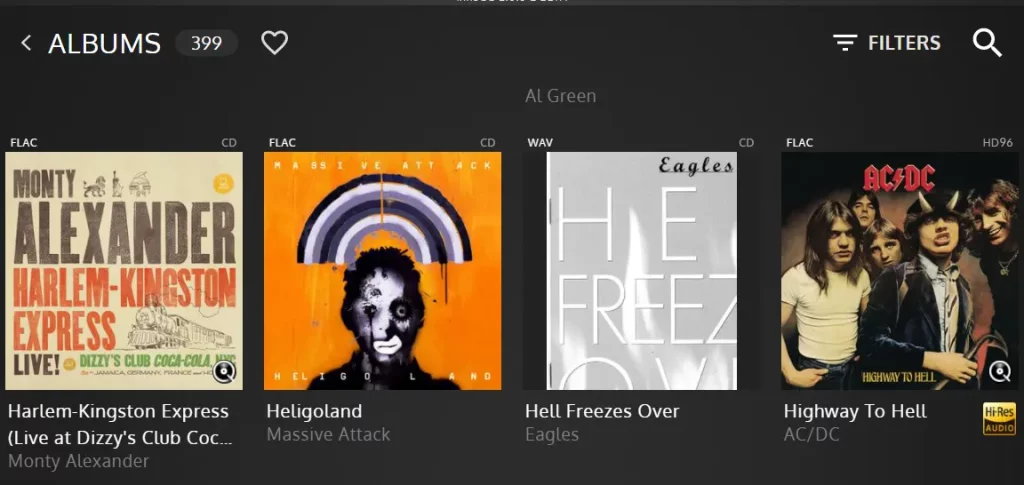 Instead of providing alternative views for browsing by genre, year or quality, we decided to have a filter view that would allow quite a lot of flexibility in showing a specific set of albums. This allows a much quicker way to explore a set of albums, rather than navigating back and forth between albums, genres or year views.
You can filter by:
Source
Quality
Tags
Years (coming on a later update)
Favorites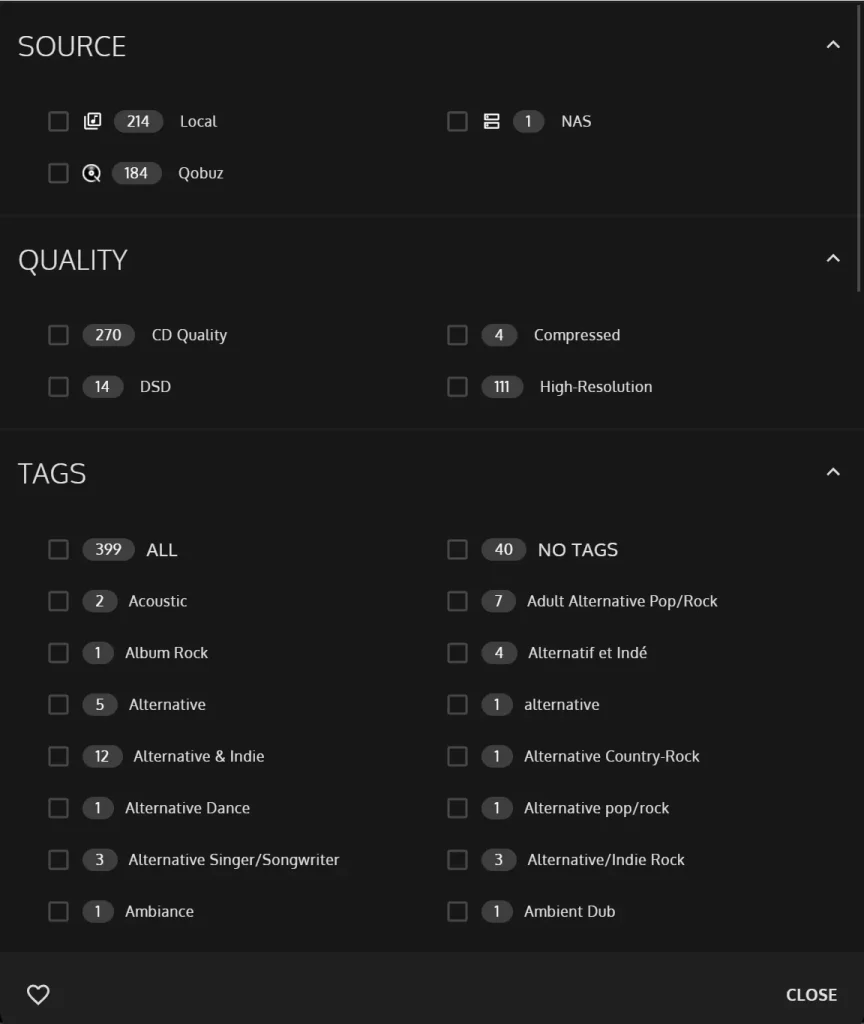 With the filter view, you can actually choose a combination of criteria to show the albums on your library such as:
Jazz and Blues albums in High-Res from Qobuz
Favorite Classical music albums
Albums in a Compressed file format on local storage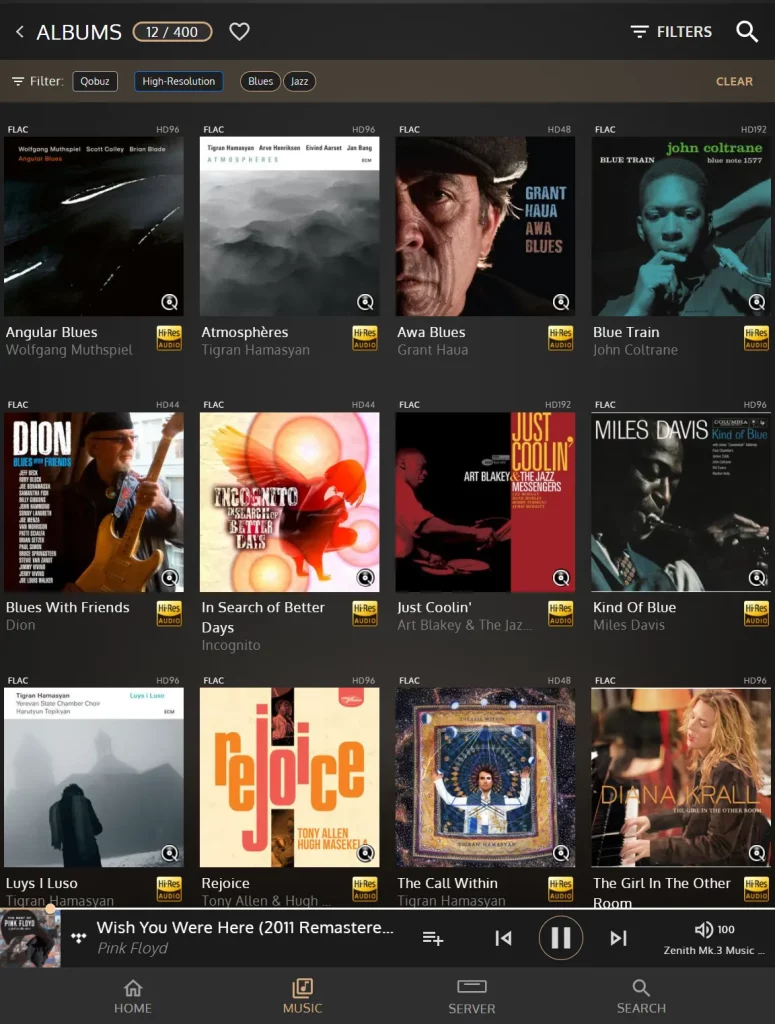 Smart Album View Search
The Album List View will now feature a specific search just for this area. Besides the more obvious case of searching for an album name, the search can actually be used with other variables such as years, genres or artists. Type in 2020 and it will list you all albums with 2020 on its name but also released in 2020. Type in Dire 1985 and you get Dire Straits albums released in 1985. Or type Classical DSD and see your classical albums in DSD128. You get the picture…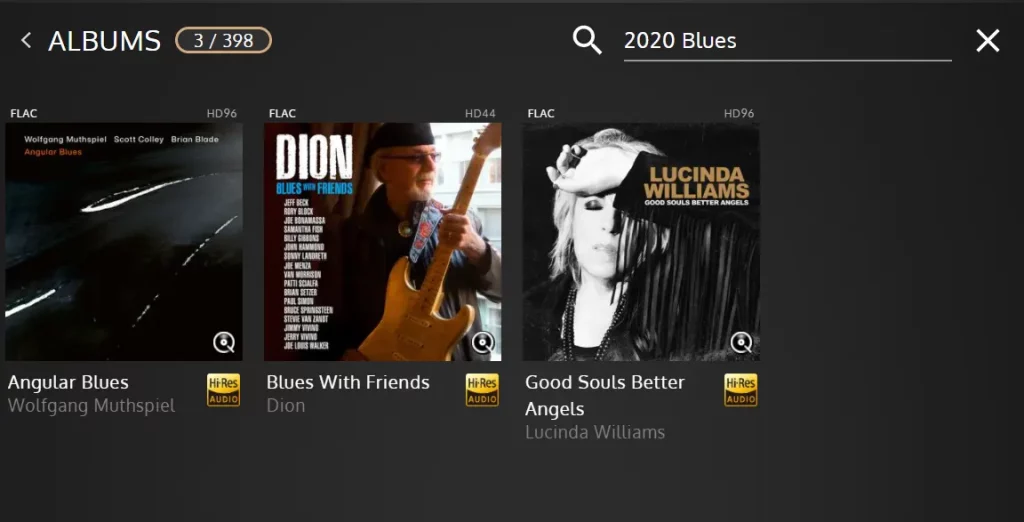 The search will also complete as you type. Type 2020 and it lists the 2020 albums. Add Blues and it will automatically filter to Blues albums from 2020.
The more traditional index search is also available if you use it to view your library from a certain point or can't remember the particular name/artist.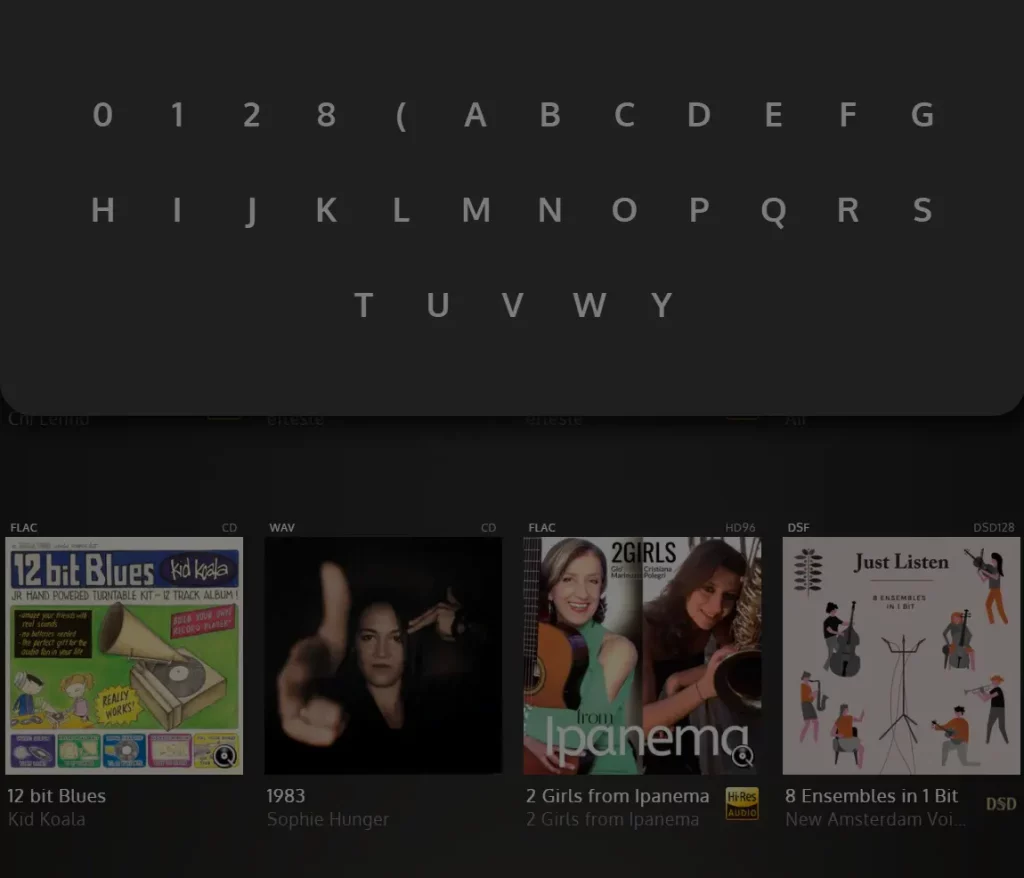 One-click Favorites filter
As music libraries become larger and larger, the feedback from our users is that there are a lot of times when they wanted just to look at their favorite albums rather than sip through their entire collection. Based on that, we decided to implement a feature that could provide you a quick view of your favorite albums with a single click. Additionally, you can apply filters only to your Favorites so you can manage the Favorites as a sub-library.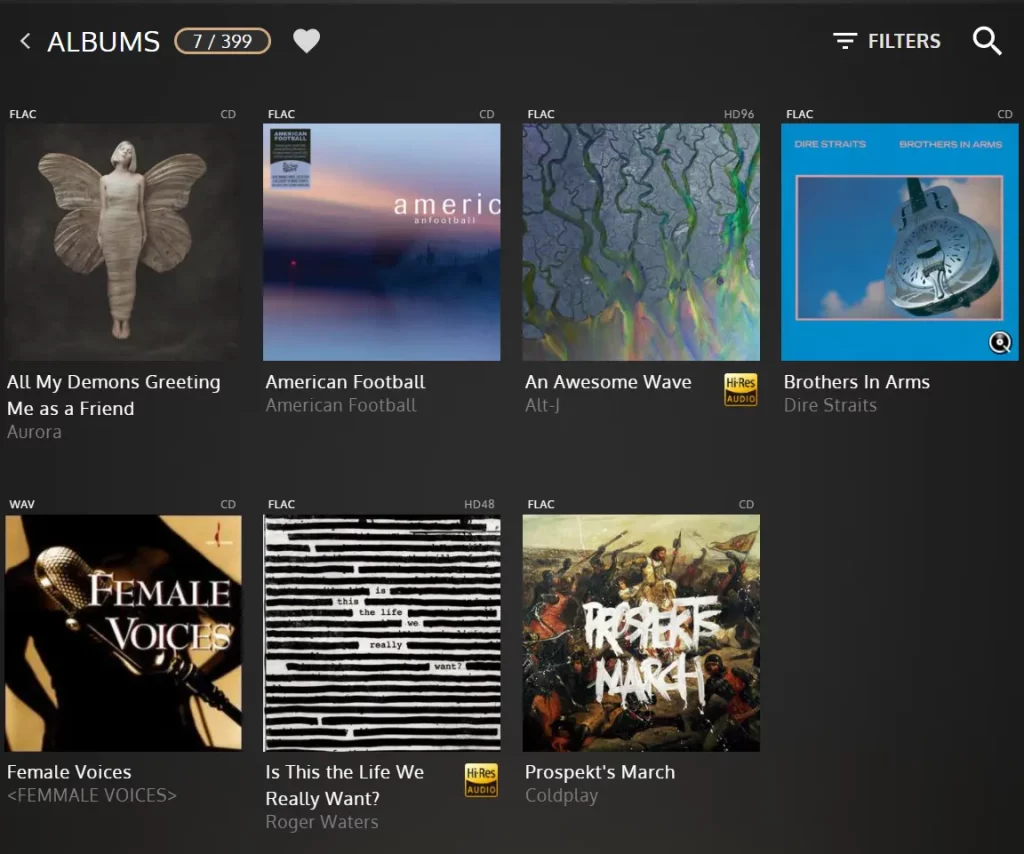 Your Questions Answered
Before we start, I'd like to mention that some questions you have sent and are not answered below maybe so because they will be in better context on subsequent blog posts. So we haven't ignored you – stay tuned on our Inn-sights!
Sound greats, positive is the playlists negative is poor tidal integration at launch. Any timescale on the future update which will include tidal integration?
We are working already towards a full Tidal integration including MQA. We can't provide a date yet as these will depend on approval processes and they are quite delayed at the moment. However, stay tuned on our blog posts as we will provide detail on the Tidal integration available at launch.
Any chance of Tidal MQA support? Or Tidal Connect
Tidal Masters support is being worked on. Tidal Connect is not planned for the moment. The reason is that we believe a full Tidal integration with the remaining music library will add more value than using the individual Tidal app as it will have further features like mixed playlists. We understand Tidal Connect is an enabler for all the family to use the system in an easy way. What we hope with innuOS 2.0 is that our Innuos Sense app will be just as easy and familiar to use. Our UI Design has taken in consideration people are used to the streaming services' apps so we expect our app will become familiar with those users quickly.
Having said all this, it's not out of the question but we would like to hear a strong case from our customers to consider it.
I play via the Naim app and it will be interesting to see if/how I can use V2 for playing
At launch you will still need to use the Naim app as innuOS 2.0 will only contain a UPnP Server as 1.x. It's one of our main objectives for future versions to allow using the innuOS Sense app to play music directly to UPnP streamers.
In Innuos 2.0, will it be possible to select all tracks by say "Sergey Prokofiev" across all albums, and edit that field in all tracks to "Sergei Prokofiev" for example?
Yes, you can go to Tracks and Search for Sergey Prokofiev. This would result in all tracks from that composer. However, you cannot yet do bulk changes to data – we are preparing a specific Music Library Management area for this. It's a dangerous feature as a misstep may ruin your collection so it needs to be safe.
Will it be possible to use the multi-disc option to show for example a 3-disc set as one album with 3 discs?
Yes indeed. See below.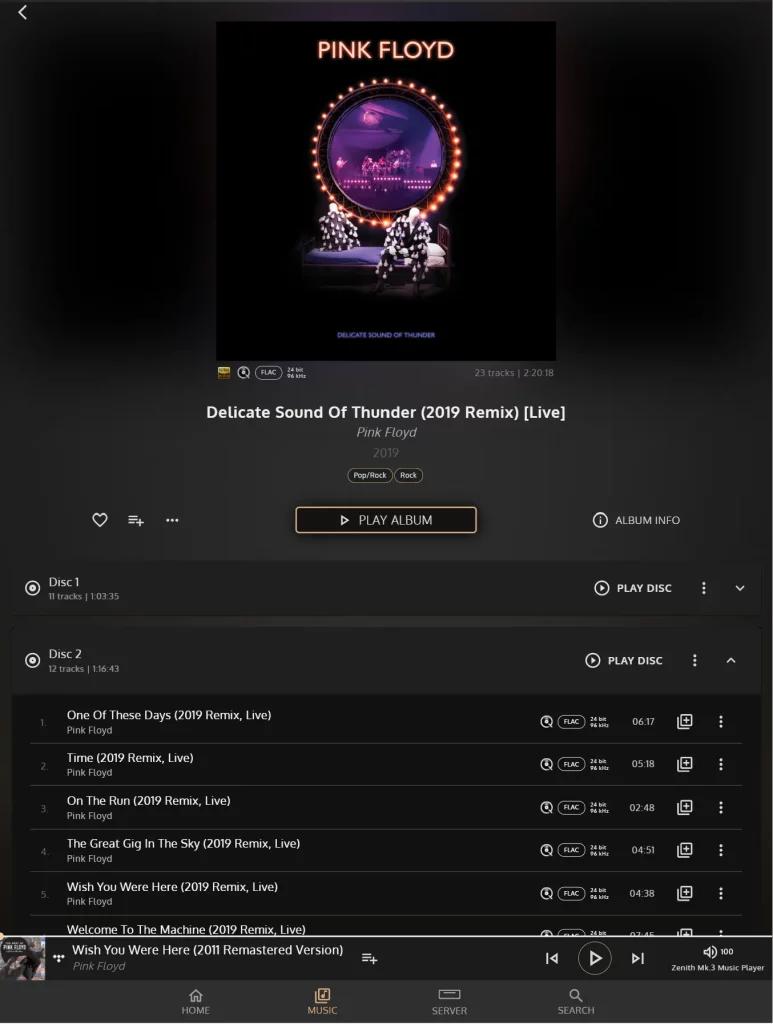 Will search results include composers and conductors? Will it be possible to edit metadata such as Conductor, Orchestra, for which I now need to use external editors such as Yate? is it possible to browse the library (local files) by Composer? by Conductor?
Yes for Composers, not yet for Conductor. We will be designing a "Classical Mode" for innuOS 2 that will properly support Classical music. This is still in early stages so please bear with us. We are also preparing a platform for user feedback where you will be able to have a say on features. Stay tuned.
What about the pending Spotify Hi-Fi service – will this be available through a software update to the existing Spotify Connect option on your Zen line of servers?
Spotify Connect is currently provided though the Logitech Media Server platform and we are working to have a direct integration with Spotify. The integration methods are still being discussed with Spotify and this will take some time. Once there are more details on the recent Spotify Hi-Fi announcement we will let you know.
I assume the switching back and forth between Roon and 2.0 to try the experience will be easy to do?
Yes, it's a simple switch on Settings. If Roon mode is active, you will only have access to "Server" area of the app for managing disc ripper, Import and Backup. There will be a bar specifying Roon Core Mode is on immediately visible. It's not feasible to have both Roon Core and innuOS 2 running at the same time as they would both conflict on a number of things – an obvious one is control of the DAC output. But it's easy enough to switch if you like.
Can you tell me how it deals with the BBC radio streams that I understand will only work after 21 March if the BBC Sounds app is installed?
BBC Sounds integration will be available on our Radio section for those who have it setup already on 1.x. Full integration will be provided on an update.
Are there any improvements for Roon users in the experimental mode?
Not directly, experimental mode remains the same implementation. However there may be benefits from the updated OS platform that may also benefit this mode.
Please be sure to integrate the Tidal My Mixes…
Consider it done! More on this on the next blog posts.
Any thoughts about integrating a lyrics screen/service?
It's something we are considering in the future. We are working on preparing a platform for user feedback that will help prioritise features together with our users. Stay tuned.
---
That's all for this week. Thank you for reading and keep your questions coming!
Best,
Nuno Vitorino