Innuos was founded in 2009 in the United Kingdom with the vision that you don't need to sacrifice sound quality nor be a technology wizard to enjoy the convenience of Digital Music at your fingertips. This vision can only be achieved through the combination of three core principles:
01.
PERFECT SYNERGY BETWEEN HARDWARE AND SOFTWARE
Our multi-disciplinary team combines expertise in Computer Hardware, Audio Hardware, Networking and Software Engineering to create our products end-to-end.
Digital Audio is a fast-evolving area, with new products being constantly introduced in the market. Instead of designing closed solutions, we build our products to be open, allowing integration with the most popular Hi-Fi and Multi-room products in the market.
02.
CUSTOMER-DRIVEN RESEARCH AND DEVELOPMENT
By working closely together with end users and partners alike, we really understand what different customers require in a music solution. This has been driving our research and development since day one.
Projects
LIVTC Portugal Lda is an entrepreneurship project co-financed by Regional Operational Programme Algarve21, part of the NSRF (National Strategic Reference Framework - QREN).
Individual Projects - SME Internationalization - Export Acceleration
Strengthening of the brand's positioning in the current international markets in Europe and North America and expansion into new markets, namely in Asia Pacific.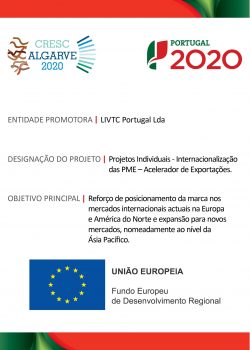 Space adaptation and organization of work environment to new requirements in the context of COVID-19, with the prospect of improving these spaces.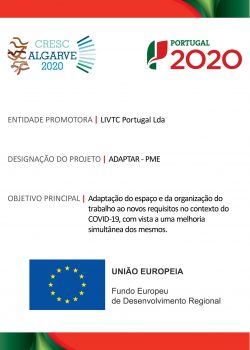 Qualification and Internationalization of SME's - Individual Projects
LIVTC is expanding its operations in the United Kingdom and in Germany, through a project co-financed by the Regional Operational Programme CRESC Algarve 2020, part of the NSRF (National Strategic Reference Framework) Portugal 2020.