Weekly Update (08 Sep 2021)
Hi everyone,
Can't believe a month has passed since the last blog! After two weeks holiday plus couple more extra days to dedicate to family, I'm getting back in sync with everything happening at the company and resume our weekly blogs.
Taking advantage of the fresh start, I've come up with a few changes to the blog. First, I'll keep the weekly updates but not focusing exclusively on innuOS . With the rollout available to all Mk.2 and Mk.3 servers now complete (more below on Mk. I servers), we can now talk here about all kinds of things Innuos-related. The blog will also start being published on Wednesdays – this is a better fit with my own and the overall team's schedule.
Now let's go straight to the topics I have for this week.
innuOS 1.x upgrades
The innuOS 1.x upgrade is progressing at a good speed but given some systems had versions about two years old and the magnitude of the updates (basically upgrading the base OS on two full versions – think "upgrading from Windows 7 to Windows 10 automatically and without user intervention"), we're still having some issues who require the help from Support to complete the updates. We're prioritizing these cases to ensure everyone has access back to their systems and we have significantly reinforced guards on our update scripts to try and ensure an upgrade runs as smooth as possible. There still may be the odd case of an interrupted update or a library that may not be playing ball but we expect these cases now to be few and far between. If you do have any issues upgrading, just drop us a line at our support email and we'll get back to you as soon as possible.
Regarding Mk.1 systems running innuOS, after testing here for some time and discussing with the team, we have decided not to offer the upgrade for Mk.I systems. These would only be available for those systems running innuOS 1.x, not Vortexbox – those were not eligible anyway. The hardware on Mk.I systems is quite outdated and performance is significantly lower than the current systems. This would mean we would have to do some compromises to innuOS due to this and given these systems are a very small percentage of the overall systems on the market today, we've decided not to include them. However, we will not be leaving our users out in the cold and we'll be preparing a trade-in process should you be interested in moving to a more recent Innuos server with innuOS 2.0. We are looking at the details for this and feel free to contact us on our support email if you are interested in more information.
Challenging Week…
As not only myself but our Support Engineers were on well-deserved holidays with a skeleton crew always available for the highest priority cases, we are still catching up on requests for support. Please be patient – we now have our entire team back so we expect to go back to normal quite soon. The Feedback Zone has also not had any approvals and comments lately from my part, something I intend to correct during this week as things come back to normal.
To make things more "interesting" the supply chain squeeze keeps us bringing challenges in getting components to be able to do our systems. We work with thousands of components now, from the simplest resistor to full motherboards. It's now becoming quite frequent that our suppliers just tell us they lack raw materials to produce the components we need, so we need to work out a sensible delivery plan, in a lot of cases with increased prices. In other cases we have to look at pockets of available components around the world and just buy what whatever stock we can find, again at increased prices. For now we have been able to get the components we need for the months ahead but it's a considerable effort from a lot of people at Innuos.
We are also preparing our new production premises in Faro, Portugal. There's still a lot of work to prepare our full ESD compliant lab and production unit, Offices, Service and Warehouse and, most relevantly, a very nice sound room to further help us test and demonstrate our systems! We'll be letting you know more about this as the work advances directly from our CEO Amelia Santos who's coordinating the work.
Amidst the pandemic we are also steadily hiring more people and I would like to highlight our new Head of Software Development that will help our Software Development Team shift to an even higher gear! I will then move from the daily management of the team and will enable me to focus on the development of new products.
innuOS and Sense updates, TIDAL implementation
Last but not least, we are now beta testing the 2.0.6 innuOS update. This update will essentially feature bug fixes and performance improvements but to show you all we are listening to you on the Feedback Zone, we're also including one of your requested features: Ability to sort the Albums by Artist on the Albums View. We decided to provide an option so that anyone who still prefers the alphabetical order uses it as before. The A-Z index will automatically adapt – if by title then letter correspond to album names, if by Artist the it will correspond to album artist names. The index will now disregard common prefixes like "The", "Los", "Las", etc so you can find "The Beatles" under B as it was the case on innuOS 1.x. So please keep voting on features on the Feedback Zone and we'll get the team to prioritize them.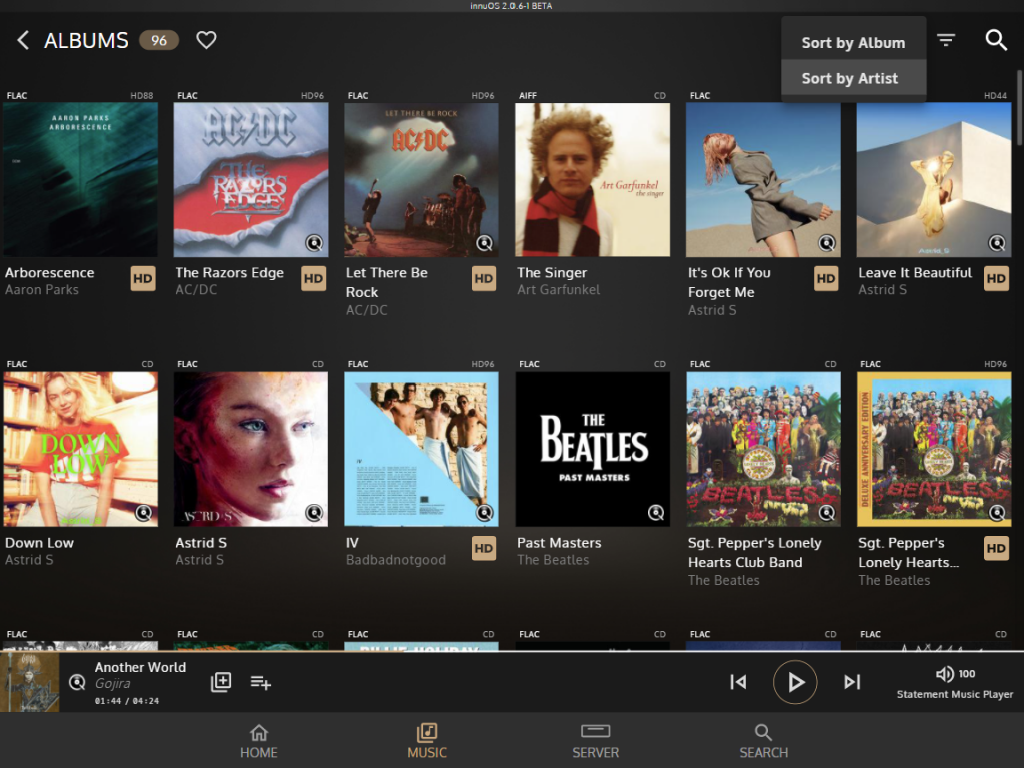 Assuming no issues are found in the meantime, we will publish the update on Monday 13th September. You can check the full changelog in advance at the Feedback Zone .
At the same time, the team is progressing with the full TIDAL integration. No dates promised yet but development is progressing very well and we have now mostly covered the Music Library Integration, Authentication and Search. We'll keep you posted on further progress in weeks ahead.
On the Innuos Sense app, we are also now preparing for submission an update to both the iOS and Android apps that address the following issues:
App refreshes connections when coming back to foreground (iOS/Android)
Now supports both landscape and portrait modes (iOS/Android)
Now support external keyboards (iOS)
App now lists consistently lists all available on the network (iOS)
Apps will be going through the review process from the respective app stores and we expect them to be available soon.
That's all for this week. Hope to have you here next Wednesday!
Best,
Nuno